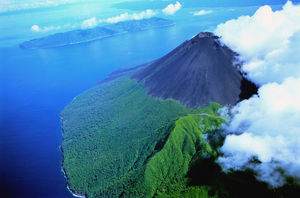 Preparations are being made to evacuate nearly 3,000 people from the Vanuatu island of Gaua after further threats from its volcano.
The Gaua volcano in Torba province began erupting seven months ago and there has been renewed activity in recent weeks.
Government officials have been discussing the logistics of an evacuation, but no date has been set.
A Department of Internal Affairs meeting last Thursday concluded there was no alternative to evacuating the people of Gaua to Sola on Vanualava island.
From Sola most would be relocated to Leon Bay for up to a year, on land owned by the Anglican Church of Vanuatu.
Others would be dispatched to other islands in Torba.
The meeting heard that the evacuation needs to take place as soon as possible because the children on Gaua have been traumatised by the eruption and this may affect their studies.
Late last year, about 300 residents on the western side of Gaua, who were suffering from the effects of ash and gas, were relocated to villages on the eastern part of the island.