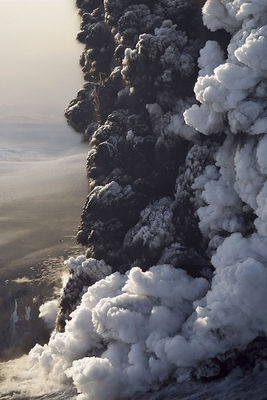 London - Civil aviation authorities in Europe came under heavy pressure Sunday to ease flight restrictions as airlines and government officials sought to limit the economic fallout from a crisis that is disrupting the global trade in goods as varied as precious gems and tropical fruit.
Airlines, which have suffered billions of dollars in uninsured losses, said test flights over Europe indicated that the ash emanating from an Icelandic volcano had cleared in some areas and suggested that aviation officials overreacted to the threat posed to jet engines. The European Union's transportation commissioner, meanwhile, called for an easing of the travel bans, which have grounded an estimated 63,000 flights since Thursday.
Despite such pleas, the decision on when to reopen the skies rests with national aviation authorities, and some -- including those in Britain -- extended near-absolute flight restrictions until at least late Monday.
The calls to loosen restrictions came as concerns grew about the crisis's economic implications. Fears were mounting, in particular, about the consequences for the still-fragile economic recovery in Europe should the travel bans stretch on for weeks.
The tentacles of the crisis have already stretched into the global supply chain. Auto factories in China that use electronic parts flown in from Germany faced a sudden halt in shipments. A logjam forming in the international diamond trade threatened to delay the shipment of necklaces and wedding rings if flights are not resumed between cutters in India and dealers in Antwerp, Belgium.
"It is going to take us four or five days to get back to normal if the ban is lifted this week," said Rohit Mehta, president of the Surat Diamond Association in India. "But if it goes on for two or three weeks, it could seriously disrupt the diamond trade."
In the United States, UPS and FedEx posted notices to customers about delays in shipments to Europe, and FedEx temporarily halted some of its services. About $40 billion in goods and services pass between the United States and European Union countries each month. Much of that, however, is in equipment and industrial products more likely to be sent by sea and not at risk of spoiling.
That was not the case in some other parts of the world. In Kenya, more than 5,000 workers in the lucrative flower and vegetable industries were told not to report for work Sunday. Warehouses are filled with a backlog of stock, and an estimated 3,000 tons of flowers and vegetables valued at $9 million were sitting at Nairobi's main international airport.
Even if flights to European hubs including London and Amsterdam, home to the world's largest flower market, were to resume immediately, Kenyan flower industry officials said there would be a temporary oversupply that could push prices down for the next week.
"Everyone is anxious," said Jane Ngige, head of the Kenya Flower Council, which represents 120 farms. "They are wondering what's going to happen in the next two weeks."
Nowhere is the impact being felt more than by airlines, which have been forced to strand millions of passengers around the world. On Sunday, the number of flights in Europe fell to a four-day low of 4,000, down from 22,000 regularly scheduled Sunday departures.
With the Eyjafjallajokull volcano in Iceland still erupting, there was no telling when the ash clouds over the region could clear. But the airlines were clamoring for aviation authorities to roll back the bans anyway.
A handful of carriers have run test flights to determine whether ash particles were dense enough over Europe to cause engines to fail.
The Dutch carrier KLM said it flew a Boeing 737-800 to its maximum altitude of eight miles on Saturday. Peter Hartman, KLM's chief executive, was aboard the flight and said the crew had detected "nothing unusual." Lufthansa, Air Berlin and Air France officials said that they also ran successful test flights at various altitudes and that the results were submitted to authorities.
Europe's two main airline associations issued a statement saying that
the situation did "not appear to require the kind of restrictions that are presently being imposed."
Still, KLM acknowledged that it conducted its test flight when there was a gap in the clouds containing the heavier concentrations of ash. The other airlines conducted their tests at lower altitudes.
Aviation authorities in Britain and Europe were reviewing the test flight data and remained in intense talks with airlines. Restrictions were eased in some nations, including Germany, but largely remained in place in 24 nations from Ireland to Italy.
Civil aviation experts cite two famous examples of volcanic ash disrupting flights, in 1982 and in 1989. In both cases, fatalities were narrowly averted.
In Europe, the economic toll is being felt most in specific industries, including aviation, air shipment and agricultural businesses dealing in perishable goods.
Blue Pile, a London-based company that cuts and packs fresh fruit in Brazil, Ghana, Egypt and South Africa, said it had lost more than $1.2 million since the ban began on Thursday. Anthony Pile, the company's chairman, said the delays were costing thousands of farmers in Africa who sell to fruit to the company. "The impact is everywhere," Pile said.
Economists said it would take weeks of flight bans to significantly damage the European economy. In Britain, for instance, air transport accounts for less than 1 percent of international trade.
If the region remains cut off by air for a prolonged period, pharmaceutical, biotech and even auto manufacturers that depend on air transport for time-sensitive deliveries could face production delays. The additional sting would come at a time when the region is already lagging the United States in bouncing back from the financial crisis.
"What is now a manageable, short-term disruption could become a major weight on an economy that is still very fragile," said Henk Potts, vice president of Barclay's Wealth in London.