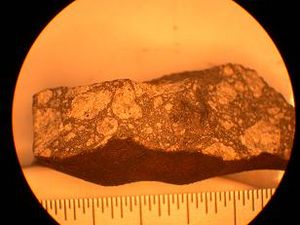 Soaring meteor lights up skies across the Midwest.
Scientists say an apparent fragment from a meteor that lit up Midwestern skies this week has been recovered in southwestern Wisconsin.
The fragment weighs 0.3 pounds and is about the size of an unshelled peanut. The meteor had streaked across the sky about 10 p.m. Wednesday and was visible from southern Wisconsin and northern Iowa to central Missouri.
University of Wisconsin geology professor John Valley says fragment has a so-called fusion crust. The paper-thin blackened coating results when a meteor superheats as it speeds through the atmosphere.
Valley says the man who found the fragment lent it to university scientists for a two-hour analysis.
Based on preliminary tests, the meteor appears to have come from the vast asteroid belt between Mars and Jupiter.
Source: Associated Press