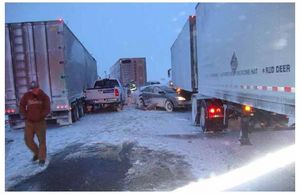 Edmonton - A spring storm that left roads slick with ice and caused major traffic tie-ups and road closures on provincial highways Thursday night forced the City of Edmonton to send 40 sanding crews onto city streets to bring roads up to good driving conditions.
Alberta Motor Association road report co-ordinator Terry Clovechok said the storm hit central Alberta particularly hard. On the Queen Elizabeth 2 Highway, there was a 54-car pileup near the Olds overpass. Also on the QEII, a tanker truck full of propane that overturned near the Highway 72 overpass, forced the highway to be closed for several hours overnight.
Clovechok said the spring snow storm had a major impact on driving conditions.
"Visibility is greatly affected, and when the snow hits the ground, because of the temperatures, it just forms into ice," Clovechok said. "You have a combination of zero visibility, icy roads, people slowing down, or maybe not slowing down, and the collisions result. You have big trucks, little cars - it's not a good combination."
As of 10 a.m., reports on the Alberta Motor Association's road report website showed highways to the north and east of Edmonton in poor condition, while most highways to the west and south were listed as fair or good. Environment Canada issued a snowfall warning for much of northeastern Alberta and is warning up to 20 centimetres of snow could fall by Saturday morning.
In Edmonton, road crews will continue to sand Friday, paying particular attention to hills and bridges, particularly in the river valley. Freeways and major arterial roads also are the main priorities.
Edmonton Police spokesman Jeff Wuite said that despite the storm, city streets did not see the same kind of action as provincial highways, with police responding to an average number of collisions overnight.
Between 6 p.m. on Thursday and 8:30 a.m. Friday, police responded to 31 crashes in Edmonton. Five of those collisions resulted in injuries.
"We managed to escape the brunt of it as far as traffic safety incidents," Wuite said. "But we still remind motorists that driving conditions are poor today. Keep your speeds down and leave enough space between vehicles. Winter hasn't completely left yet."