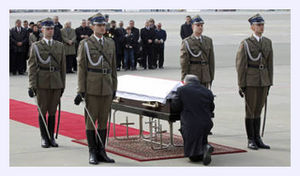 For the second time in 60 years, Poles around the world have been horrified to learn that their country's best-known leaders have been killed, suddenly and tragically, in a forest outside the western Russian city of Smolensk.
Saturday's crash of an aging Tupolev 154 jet during a fog-blinded landing was a cosmic insult to the Polish imagination, a catastrophe that wiped out a generation of leaders and placed a stark punctuation mark on the political drama that has defined Polish affairs since the defeat of communism in 1989.
It occurs at a moment of glory for Poland, as the formerly poor country, almost alone in Europe, has managed to avoid recession. It is often said by Poles that they are a people who are punished for their triumphs; Saturday seemed to confirm this belief.
It was also, as every Pole knows, a freakish repeat of history. It was outside Smolensk, in Katyn forest in March of 1940, that Joseph Stalin's agents machine-gunned as many as 22,000 of Poland's top military, intellectual and civil-service leaders to death and dumped their bodies in mass graves, terminating the country's independence for half a century.
"Seventy years ago, the Soviets murdered the political elite in Katyn," Lech Walesa, the Solidarity hero and former president, said yesterday. "Now, again, the political elite has been killed on its way to the same place."
It was en route to a planned Saturday-morning ceremony to mark that massacre - the second such ceremony in a month, and part of a new willingness by Moscow to acknowledge the atrocity - that Poland's presidential jet went down.
The fiery crash killed off a wide cross-section of Poland's most important political, military and financial figures, many of them heroes of the anti-communist struggle. The dead include the chairman of the central bank, the chief of staff of the army, the commander of the navy, the heads of air and land forces, the head of Poland's intelligence service, and several important members of parliament.
There were important figures from almost every political party, but most notable was the crash's devastating effect on Poland's conservative Law and Justice Party.
By killing president Lech Kaczynski and a number of his most important political allies, the crash is not only a national tragedy and an administrative crisis, but almost certainly the end of a colourful and tumultuous era in Polish politics.
Poland has been divided for the past decade into two factions that emerged from the success of the anti-communist struggle in 1989: a liberal, European-oriented faction led by Prime Minister Donald Tusk and a conservative, religious and nationalist faction led by Mr. Kaczynski.
The Katyn massacre had already been marked in an official ceremony last Wednesday with Prime Minister Tusk and his Russian counterpart, Vladimir Putin. Mr. Kaczynski, an outspoken foe of both the Russians and Mr. Tusk, was not invited. Saturday's ceremony was his own self-organized response, and he had brought much of Poland's conservative elite to show the influence of Poland's other solitude.
As such, the crash was the final result of a stubborn determination to show Poland's independence, and to display his own political influence. It seemed to mark the self-immolation of a political movement whose future was troubled.
Mr. Kaczynski and his identical-twin brother, Jaroslaw, were household names in Poland as child actors who starred in popular movies during the communist years, and then became known for their early and outspoken involvement in the Solidarity movement, beginning in the late 1970s.
When that movement negotiated the successful defeat of communism at the end of 1989, its key leaders split, with one faction taking a liberal, free-market, European-minded approach and the other, led by the Kaczynskis, building strong support on a conservative return to powerful images of church, family, farm and country.
At its high point in the middle of the 2000s, Mr. Kaczynski's conservative Law and Justice Party was a dynastic force in Poland, with Lech Kaczynski holding the presidency and Jaroslaw Kaczynski the prime ministership.
Mr. Kaczynski and his brother divided Poles deeply, embarrassing more elite and cosmopolitan urbanites with their outbursts against feminism, homosexuality, the European Union and Germany during a period when Poland was developing strong economic and social ties with the outside word.
Others rallied behind a politics that appealed to Poland's staunchly Roman Catholic, agrarian self-image - a politics that, for a time in the last decade, proved very successful in foreign policy after the Kaczynskis forged a tight alliance with U.S. president George W. Bush. That alliance brought economic and trade benefits to Poland, including the planned staging of a major U.S. antimissile base in Poland (a move that infuriated Moscow); it also involved Poland sending a large number of troops to Iraq and Afghanistan.
But it is not just their political supporters who will mourn Mr. Kaczynski this week - and not just because their courageous leadership of anti-communist struggles is admired and respected by almost everyone in Poland. The Kaczynskis, despite their sometimes outrageous divisiveness, oversaw the end of a difficult decade of corruption and halting growth, and ushered Poland into the European Union in 2004, a move that transformed the country's fortunes in stunning ways.
The defeat of Jaroslaw Kaczynski by Mr. Tusk (a former rival for the presidency) in the 2007 parliamentary elections ushered in a more divided age in Polish politics, with Law and Justice controlling some government departments, courts and military bodies, and Civic Forum controlling others.
But Poland's dramatic economic resurgence during the past three years, during which it has been one of the few countries to escape the credit collapse without entering recession or having banks fall, has turned fortunes toward Mr. Tusk's camp.
In that light, Mr. Kaczynski's angry recalcitrance toward the European Union and his party's alliance with xenophobic far-right parties in the European parliament has seemed counterproductive to a larger number of Poles.
Many analysts expected presidential elections this autumn to produce a victory for the liberals, and thus a collapse and crisis of identity for the nationalist conservative branch of the old anti-communist alliance.
Yet the admirable side of their legacy was visible this weekend, as millions of Poles mourned the death of their leaders and heroes, and replaced their top political and military figures with temporary administrators, without any sign of political instability or constitutional crisis. The figures who died on Saturday should be remembered for having turned Poland into the kind of country that can safely weather a tragedy of such magnitude.