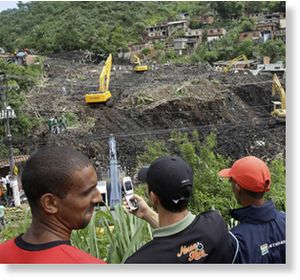 At least 200 people were feared dead after being buried under the latest landslide to hit a slum in Rio de Janeiro's metropolitan area, authorities said yesterday.
If confirmed, the deaths would raise the toll sharply from the 153 people already known to have died this week in slides triggered by record rains. A government official said as many as 60 houses and at least 200 people were buried in the Morro Bumba slum in Niteroi.
"In our experience, it's an instant death" for those caught in their homes at the time, the official said.
The shanty town was built on a mountain of trash that accumulated for decades, making the ground unstable and vulnerable to giving way. In the worst flash floods in the city for more than 40 years, 11in (28cm) of rain fell in a 24-hour period triggering deadly mudslides across the city's metropolitan area.
The official death toll, which firefighters said was 153, does not include those buried in Morro Bumba.