Space shuttle Discovery lifted off from Cape Canaveral on Monday morning, April 5th, on a 13-day mission to the International Space Station. Long after the shuttle disappeared from the brightening dawn sky, however, onlookers continued to stare ... at this: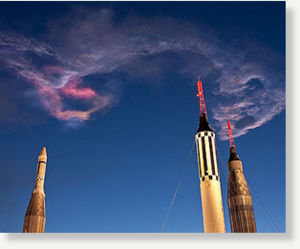 "I photographed the cloud twisting and turning over the Rocket Garden at the Kennedy Space Center Visitors Complex," says photographer Craig Crawford. "It was psychedelic."
Although it appears to be a strange brew of colorful chemicals, the cloud is in fact no more than a wispy plume of water droplets and ice crystals. The shuttle's main engines are fueled by liquid oxygen and liquid hydrogen--a combination that produces a lot of H2O. Rays from the morning sun painted the twisting plume with all the colors of the dawn. Psychedelic, indeed. Stay tuned for a different type of rocket cloud tomorrow.