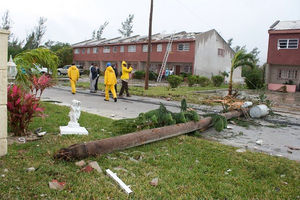 Freeport, Bahamas - Police in the Bahamas say a tornado has apparently touched down in at least two places on the island of Grand Bahama.
Police spokeswoman Loretta Mackey says there are no immediate reports of fatalities. Mackey says authorities are still checking reports of damage at the island's container port and elsewhere.
Monday's storm uprooted trees in the tourist area of Lucaya.
There are also reports of damaged cars and businesses.
A forecaster with the Bahamas Meteorology Department says heavy thunderstorms are expected to last until at least late afternoon.
.