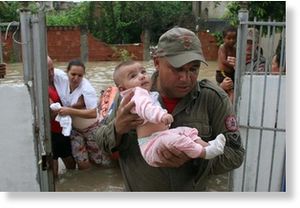 The heaviest rains in Rio de Janeiro's history triggered landslides Tuesday that killed at least 81 people as rising water turned roads into rivers and paralyzed Brazil's second-largest city.
The ground gave way in steep hillside slums, cutting red-brown paths of destruction through shantytowns. Concrete and wooden homes were crushed and hurtled downhill, only to bury other structures.
The future host city of the Olympics and football World Cup ground to a near halt as Mayor Eduardo Paes urged workers to stay home and closed all schools. Most businesses were shuttered.
Eleven inches (29 centimeters) of frain fell in less than 24 hours, and more rain was expected. Officials said potential mudslides threatened at least 2,000 homes in the city of 6 million people.
"It is not advisable for people to leave their homes," said Paes. "We want to preserve lives."
He told the Web site of the newspaper
O Globo
that the rainfall was the most that Rio had ever recorded in such a short period. The previous high was nine inches (24 centimeters) that fell on Jan. 2, 1966.
President Luiz Inacio Lula da Silva urged Brazilians to pray for the rain to stop.
"This is the greatest flooding in the history of Rio de Janeiro, the biggest amount of rain in a single day," Silva told reporters in Rio. "And when the man upstairs is nervous and makes it rain, we can only ask him to stop the rain in Rio de Janeiro so we can go on with life in the city."
A representative for the Rio de Janeiro fire department, which was coordinating rescue efforts, said 81 people were known dead and 44 more had been hospitalized. Most of the victims were from Rio's hillside shantytowns whose homes were buried under tons of mud and rubble.
"We expect the death toll to rise," said the official, who declined to be identified because he was not authorized to speak to the media.
Thousands of motorists were stranded overnight on highways blocked by rising water.
Sergio Simoes, head of Rio de Janeiro's civil defense department, told the Globo TV network the amount of rain that fell was "more than any city is capable of supporting."
Claudio Ribeiro, a 24-year-old taxi driver, spent eight hours stranded on a highway.
"I have never seen anything like this," he said, wiping steam from the inside of his windshield to reveal a flooded roadway with hundreds of cars, taxis and buses packed together on high ground between raging torrents.
"Tell me, how is this city supposed to host the Olympics?" Ribeiro said. "Look at this chaos!"
Neither the 2014 World Cup nor the 2016 Olympics will be held during Brazil's rainy season. It normally takes place during the Southern Hemisphere's summer in December through February, but has lasted into April this year.
Silva played down the possibility that similar downpours could wash out the biggest sporting events Brazil will ever host.
"Normally, the months of June and July are calmer, and Rio de Janeiro is prepared to host the Olympics and is prepared to host the World Cup with a lot of tranquility," Silva said. "It's not because of one catastrophe that we will think that it's going to happen every year, or all the time."
Rio 2016 organizers said in a statement that Tuesday's rainfall was extremely unusual and could happen anywhere in the world. Organizers praised city and state authorities for responding quickly to the public safety crisis.