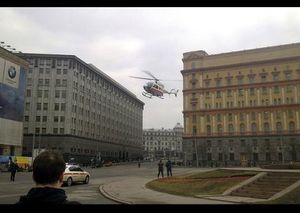 Two female suicide bombers killed at least 38 people in attacks on downtown Moscow subway stations yesterday, including one near the headquarters of the successor to the Soviet-era KGB, in the deadliest terrorist assault on the Russian capital in six years.
Comment: Wow, the investigation wrapped up within hours: two female suicide bombers did it! That would certainly jog Russians' memories of the Beslan massacre where female suicide bombers were supposedly present.
The women belonged to groups linked to Russia's mostly Muslim North Caucasus region, which includes Chechnya, Federal Security Service Director Alexander Bortnikov told President Dmitry Medvedev at the Kremlin.
No one has claimed responsibility.
International condemnation was led by President Barack Obama, who telephoned Medvedev to pass on his condolences and offer help. Group of Eight foreign ministers condemned the attacks, issuing a statement ahead of a meeting in Gatineau, Quebec, saying they would continue to "collaborate to thwart and constrain terrorists."
The two bombs went off within an hour of each other during the morning rush hour, injuring 65 more people, the Emergency Situations Ministry said. The blasts were the most costly in lives since 2004, when bombs detonated by suicide attackers exploded in the metro on two separate occasions. The Interior Ministry deployed 700 soldiers to boost security in the subway yesterday and authorities stepped up security at airports across the country.
"Russia will fight terrorism without hesitation and to the end," Medvedev told the country's Security Council. The president has increased efforts to root out Islamist rebels in the North Caucasus by killing their leaders and promoting economic development in the impoverished region.
Ruble Weakened
The ruble weakened the most against the euro in more than two months after the attacks. The Russian currency depreciated as much as 1.1 percent against the euro, the biggest intraday decline since Jan. 25, and closed 0.5 percent weaker at 39.7532. It lost as much as 0.6 percent to 29.7300 per dollar, a three- week low, before trading little changed at 29.5650.
Medvedev in June called for a crackdown on "terrorist scum" amid a spate of attacks in the North Caucasus.
Federal forces fought two wars against separatists in Chechnya after the collapse of the Soviet Union in 1991. Chechen militants were responsible for the worst act of terrorism in Russian history,
the Beslan school hostage-taking in North Ossetia in September 2004
, which left 350 people dead, half of them children.
Comment:
Didn't take them long to mention Beslan, did it?! This was the infamous siege of a school in southern Russia where
eyewitnesses and relatives
claim Russian security services were involved.
Chechen insurgents also carried out the deadliest attack ever in Moscow, the Dubrovka theater hostage-taking in October 2002, which left 130 people dead.
'Echo of War'
"This is what they call an echo of war," Yuly Rybakov, a rights activist and former Russian legislator, said by telephone. "Russia has committed horrible crimes since it started the war in Chechnya. And violence always begets more violence. Innocent people are now paying for the Pandora's box that was opened in the 1990s."
Prime Minister Vladimir Putin returned to Moscow from Siberia to visit some of the injured in hospital, saying law enforcement officials would do everything possible to find and punish those responsible. "The terrorists will be eliminated," he said on state television.
"It does look like we're set to see more of these kinds of attacks in Moscow, perhaps St. Petersburg," Carlo Gallo, Russia analyst at Control Risks, said in an interview with Bloomberg Television.
"It's tricky because in the past, the attacks perpetrated by Islamist terrorists have boosted support for Putin when he was president," Gallo said. "But now, after so many years of ongoing efforts, this may actually dent his authority."
Attack at Lubyanka
One bomber blew herself up at the Lubyanka station, less than a kilometer from Red Square, at 7:57 a.m. local time yesterday. The second detonated her device at 8:37 a.m. at Park Kultury station on the Garden Ring Road, according to the Federal Security Service.
"The train was totally crowded," an eyewitness, who declined to be identified, said outside Park Kultury station. "I heard the bang and saw the flash. People started screaming. Everybody started moving up the stairs."
Moscow's subway system transported 2.4 billion passengers in 2009, and moves a maximum of 9 million a day, according to its Web site.
The government will pay 1 million rubles ($33,826) to families of the victims, 400,000 to survivors of the attacks who were gravely wounded and 200,000 to those with less serious injuries, RIA Novosti reported, citing Putin's spokesman, Dmitry Peskov.
New York police increased patrols in the city's subway system "as a precaution" in response to the Moscow bombings, Paul J. Browne, a spokesman for New York City Police Commissioner Raymond Kelly, said in an e-mailed statement.
"We will learn from the terrible tragedy in Moscow, as we do from every terrorist incident around the world, and we will continue to do everything possible to protect our transit system -- and our entire city -- from the threat of terrorism," Mayor Michael Bloomberg said in a statement.
The mayor is founder and majority owner of Bloomberg News parent Bloomberg LP.