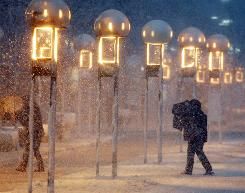 Denver - A spring snowstorm that whipped though Colorado left the state a slushy mess Wednesday, with thousands stuck at Denver's airport or left without power or schools.
The heavy snowmaker dumped more snow than even some spring break ski vacationers bargained for.
"We were supposed to leave yesterday," said Jenny Gossow of St. Louis, who missed a flight out of Denver after a family spring break ski trip to Telluride, Colo. Gossow, along with her husband and three children, spent Tuesday evening snoozing on blue mats Denver International Airport provided for an estimated 5,000 stranded travelers.
"We got a deck of cards, crayons, some books, and we're just hanging out trying to sleep - but only the 2-year-old has been able to sleep," Gossow said Wednesday morning. Gossow played card games with her son while her two daughters were crafting a fort out of the sleeping mats.
The snowstorm was no surprise for Colorado residents; March is the state's snowiest month. But the storm that piled about 9 inches of mushy snow in Denver - and up to 23 inches in Denver's western suburbs - shut down business for many. Dozens of school systems canceled classes, and state lawmakers in Denver declared a snow day and shuttered the House and Senate.
At Denver International Airport, hundreds of flights were grounded. The airport's three busiest airlines - United, Frontier and Southwest - together canceled nearly 160 arrivals and departures Tuesday.
The cancellations left fliers camped out in hallways and even napping in the airport's interfaith chapel.
"It was horrible, but what are you going to do?" said Greg Kinder of Great Falls, Mont., who spent Tuesday night on the chapel's floor after missing a connection. "They say we're on a different flight today, but you know, until I'm through security and getting on that plane I won't believe it."
Most major ski areas reported 5 to 7 inches of new snow. Eldora - just west of Boulder - reported 18 inches.
The storm boosted the mountain snowpack, which accounts for much of Colorado's water when it melts during the warm months. As of Wednesday, the snow totals were below average in the northern half of the state and roughly average in the south.
Xcel Energy said about 7,500 customers, mostly in the Denver area, were still without power Wednesday morning. About 45 crews were working to restore power by 5 p.m. About 36,400 customers lost power at various times after snow started falling Tuesday, Xcel Energy spokesman Tom Henley said.
Barbara Foley, 70, of Englewood rode the bus to work Wednesday in downtown Denver after she woke up to find about a foot of snow on her car. She was happy the bus arrived on time, with a driver in a good mood.
"I told the driver, 'You're just as good as the mailman,"' she said. "He said, 'No, lady, we're better."'
In the mountains, U.S. 6 over Loveland Pass was briefly closed for avalanche control and because of hazardous conditions. Farther west, Colorado 65 near Grand Junction also was closed for avalanche control.
By lunchtime the snowstorm had moved to southeastern Colorado and was headed east into Kansas and north Texas. Farther south, the system was expected to bring thunderstorms Wednesday night in Dallas.
Source: Associated Press