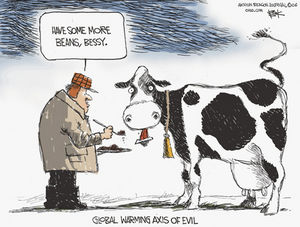 It is becoming difficult to keep pace with the speed at which the global warming scam is now unravelling. The latest reversal of scientific "consensus" is on livestock and the meat trade as a major cause of global warming - one-fifth of all greenhouse gas emissions, according to eco-vegetarian cranks. Now a scientific report delivered to the American Chemical Society says it is nonsense. The
Washington Times
has called it "Cowgate".
The cow-burp hysteria reached a crescendo in 2006 when a United Nations report ominously entitled "Livestock's Long Shadow" claimed: "The livestock sector is a major player, responsible for 18 per cent of greenhouse gas emissions measured in CO2e (carbon dioxide equivalents). This is a higher share than transport." This led to demands in America for a "cow tax" and a campaign in Europe at the time of the Copenhagen car crash last December called Less Meat=Less Heat.
Now a report to the American Chemical Society by Frank Mitloehner, an air quality expert at the University of California at Davis, has denounced such scare-mongering as "scientifically inaccurate". He reveals that the UN report lumped together digestive emissions from livestock, gases produced by growing animal feed and meat and milk processing, to get the highest possible result, whereas the traffic comparison only covered fossil fuel emissions from cars. The true ratio, he concludes, is just 3 per cent of greenhouse gas emissions in America are attributable to rearing of cattle and pigs, compared with 26 per cent from transport.
Mitloehner also makes the deadly serious point: "Producing less meat and milk will only mean more hunger in poor countries." Precisely. The demonising of cows and pigs is just another example of global warmists' callous indifference to starvation in the developing world, as in the case of the unbelievably immoral and reckless drive for biofuels - pouring Third World resources for subsistence into Western liberals' fuel tanks - and, notoriously, carbon trading.
Week by week the AGW collapse intensifies. Himalayan glaciers, polar bears, Arctic ice, Amazon rainforests, all discredited. Now it turns out the great cow-burp scare is bovine excrement too. The global warming scam is, to the majority of people, an object of derision. The scientific community has also at last wakened up. They are smelling the coffee in more and more institutions these days.
This week the Science Museum in London announced it is revising its stance so that its Climate Change Gallery will now be renamed the Climate Science Gallery, to reflect its new position of neutrality in the climate debate. Chris Rapley, the director, said the museum was taking a different approach after observing how the debate had been affected by leaked e-mails and overstatements of the dangers of global warming. He said: "We have come to realise, given the way this subject has become so polarised over the past three to four months, that we need to be respectful and welcoming of all views on it."
When did you ever hear that sort of thing before? But that is fair enough: neutrality, a level playing field and an equal voice is all global warming sceptics have ever asked for. Given those reasonable conditions, the truth will out and we will win. The signs are that a lot of scientists have been moved to assert their integrity, encouraged by the increasingly huge breaches sceptics have made in the defences of the AGW camp. Others may simply have calculated they may have backed a loser and it is time to take out some insurance.
Whatever the case, it is a different world now in the war against the AGW scam. Zac Goldsmith, warmist fanatic and Tory candidate, is telling environmentalists that green issues are vote losers. He should tell Dave that and stop him making an even bigger fool of himself. We are experiencing a tipping point in the climate war and the advantage is slowly but irresistibly moving towards the sceptics.