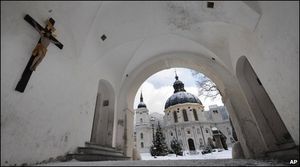 The Pope's decision to issue a letter to Roman Catholics in Ireland to try to prevent further cases of child abuse by priests follows a wave of sex abuse scandals which have rocked the Church around the world. Here is a round-up of some of those events:
Ireland
Two major reports into allegations of paedophilia among Irish clergy last year revealed the shocking extent of abuse, cover-ups and hierarchical failings involving thousands of victims, and stretching back decades.
In one, four Dublin archbishops were found to have effectively turned a blind eye to cases of abuse from 1975 to 2004.
The Dublin archdiocese, it said, operated in a culture of concealment, placing the
integrity of its institutions
above the welfare of the children in its care.
In the wake of the report,
four bishops
resigned and the entire Irish hierarchy was summoned to the Vatican to give an account of themselves in person before the Pope.
Six months earlier, another report - the result of a nine-year investigation - documented some
six decades of physical
, sexual and emotional abuse at residential institutions run by 18 religious orders.
With the Church still reeling from the reports' findings, a fresh scandal erupted in March 2010 when it emerged the head of the Irish Catholic Church, Cardinal Sean Brady, was
present at meetings
in 1975 where children signed vows of silence over complaints against a paedophile priest, Fr Brendan Smyth.
Cardinal Brady resisted calls to resign and
issued an apology
.
United States
Over the past two decades, the Roman Catholic Church in the US - with the archdiocese of Boston in particular - has been embroiled in a series of child sex scandals.
There was public outrage after abuses in the 1990s by two Boston priests,
Paul Shanley and John Geoghan
, came to light, with suspicions that Church leaders had sought to cover up their crimes by moving them from post to post.
In 2002 the then-Pope John Paul II called an emergency meeting with US cardinals, but allegations continued to emerge.
Despite an apology and pledge to take a tougher line, Archbishop Bernard Law resigned over the scandal at the end of the year.
In September 2003, the Boston archdiocese - the fourth-largest in the US - agreed to pay
$85m to settle
more than 500 civil suits accusing priests of sexual abuse and church officials of concealment.
A report commissioned by the Church the following year said more than 4,000 US Roman Catholic priests had faced sexual abuse allegations in the last 50 years, in cases involving more than 10,000 children - mostly boys.
A series of huge payouts has been made by US diocese to alleged victims of abuse - the largest, some $660m by the Los Angeles Archdiocese in 2007.
During a tour of the US in 2008, the Pope met privately with victims of abuse by priests and spoke of "
the pain and the harm
inflicted by the sexual abuse of minors".
Germany
Since the start of 2010, at least 300 people have made allegations of sexual or physical abuse by priests across the Pope's home country.
Claims are being investigated in 18 of Germany's 27 Roman Catholic dioceses.
Accusations include the abuse of more than 170 children by priests at Jesuit schools, three Catholic schools in Bavaria, and within the Regensburg Domspatzen school boys' choir that was directed for 30 years by Monsignor Georg Ratzinger, the Pope's brother.
In March,
Father Peter Hullermann
, who was convicted of molesting boys during his time in the archdiocese of Munich and Freising, was suspended from his duties after breaching a ban on working with children.
Days earlier, the Pope's former diocese said Benedict had unwittingly approved housing for Fr Hullermann when serving as archbishop of Munich;
the Vatican
denounced what it called "aggressive" efforts to link the Pope to the scandal.
Netherlands
In March 2010,
Dutch bishops
ordered an independent inquiry into more than 200 allegations of sexual abuse of children by priests, in addition to three cases dating from 1950 to 1970.
Allegations first centred on Don Rua monastery school in the eastern Netherlands, with people saying they were abused by Catholic priests in the 1960s and 70s.
This prompted dozens more alleged victims from other institutions to come forward.
Austria
A series of claims of sexual abuse by priests has emerged in the Vorarlberg region.
Some 16 people have reported 27 alleged incidents there, spanning half a century.
Ten children are also alleged to have been abused at a monastery in Mehrerau in the 1970s and early 80s.
Meanwhile five priests at a monastery in Kremsmuenster in Upper Austria have been suspended after complaints of sexual and physical abuse of boys there.
Separately, the head of a Salzburg monastery, Bruno Becker, resigned after confessing to having abused a boy 40 years ago, when he was a monk.
Switzerland
A commission set up by the Swiss Bishops Conference in 2002 has been investigating allegations of abuse involving the Catholic Church there.
A member of the commission, Abbot Martin Werlen, said in a newspaper interview this month that about 60 people have said they were abused by Catholic priests. The alleged incidents are reported to have occurred over the past 15 years.