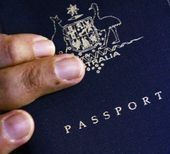 Prime Minister Kevin Rudd says Australia's failure to support Israel in a United Nations vote has nothing to do with recent tensions between the two countries.
The federal government has demanded Israel explain its role in the alleged theft of three Australian citizens' identities by its spy agency, Mossad, to carry out a political assassination.
Mr Rudd is unhappy with Israel's response so far.
"Australia is not satisfied with the answer that we received from the Israeli government ... in relation to the use and abuse of Australian passports,"
he told reporters in Canberra on Monday.
At the UN General Assembly, Australia abstained from a resolution demanding Israel and Palestine investigate possible war crimes during the 2008-09 Gaza assault.
Mr Rudd said Australia's failure to vote against the move was not a manifestation of recent tensions over the passport scandal.
"The Australian government always reviews UN General Assembly and Security Council resolutions on their merits," he said.
"This specific resolution does not explicitly endorse the so-called Goldstone report (accusing Israel and Hamas of war crimes) and therefore we have taken our decision based on its merits."
Mr Rudd added there was a "ways to go yet" when it came to discussing the passport matter with Israel.