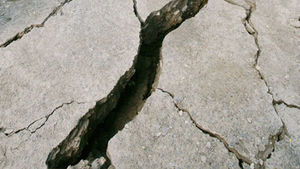 The earth shuddered closer to home Saturday night when a 3.9-magnitude earthquake hit western Quebec, hours after a devastating quake hit central Chile.
The quake hit at about 10:50 p.m. local time, according to Earthquakes Canada. Its epicentre was 13 kilometres northwest of Lachute, a town of about 12,000 located 75 km northwest of Montreal.
There were no immediate reports of damage.
About 50 km northeast of Lachute, Louise Tremblay was sitting on her couch in Ste. Adele, Que., watching images of destruction from the quake in Chile flash on television when she was startled by a loud and violent noise.
"I thought it was a bulldozer breaking down the house," Tremblay told CTV.ca in a telephone interview Sunday morning. Almost in disbelief, Tremblay stayed on her couch until the noise of the quake -- and the rattling of the air vents in her log cabin -- stopped.
Thinking she'd just felt an earthquake, but not believing it could be true, she called her mother who lives in nearby Ste. Anne-des-Lacs. She'd felt it, too. Soon enough, her suspicions were confirmed and tabulated by Earthquakes Canada.
Saturday's quake was not the first to hit the western Quebec area. Although the coast of British Columbia has sustained the strongest earthquakes recorded in Canada mostly due to the Queen Charlotte fault line, the Ontario-Quebec border is a hotbed of seismic activity. Quakes occur in the western Quebec seismic zone every five days on average, according to Earthquakes Canada.
The strongest earthquake ever recorded in Canada was a 9.0-magnitude quake that hit southwestern British Columbia in 1700. Houses in First Nations communities on Vancouver Island collapsed from the shaking and an entire village on the island's west coast was destroyed, with no survivors.