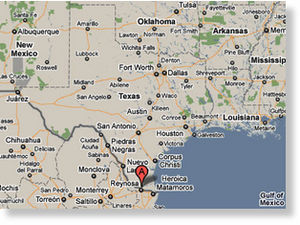 Date of Sighting:
February 12, 2010
Time of Sighting:
Between 6:30 and 7 PM CST
Location of Sighting:
Near Mission, Texas Going Westward on Highway 107 (See Map)
Description:
Listen to Witness Report (MP3)

Comment: At the time of publishing this article, the link was not working. If you would like to try to listen to the report, click on the title of the article and it will take you to the original article. You can see if the link has been fixed.


The called witness called and reported her sighting nearly two weeks after it occurred (reported on February 25, 2010). She had read about a sighting from nearly McAllen, Texas. She had thought that the McAllen sighting was on February 11, 2010, but the sighting was one month earlier (January 11, 2010). She and her son were traveling westward on Highway 107 a few miles east of Mission, Texas. Her son noticed a bright light in the early evening sky. (The sun had set and it was just becoming dark. Skies were clear). The object (light) was of disk shape when first sighted. The witnesses then made a right turn and the object appeared to follow them by also making a right turn. At that point the object appeared to be of boomerang shape and flashing orange, red, and white lights were seen on the underside. They lost sight of the object as they continued to drive.
The object emitted no sound. The witness stated that she became lost and had to call her sister to find her way to her sister's house. (She was on her way to visit her sister in Mission.) The sighting of the object had made her become disoriented. She stated that she had never believed in UFOs until she had this experience.
Note:
I had an extensive interview with the witness. Part of the interview can be heard on the audio clip above. I perceived the witness as sincere and even "skeptical," but open minded about the UFO phenomenon.