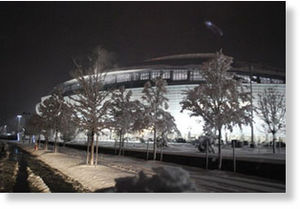 A report from Texas offers a Facebook photo that purports to be an image of a UFO taken over Cowboys Stadium in Arlington, Texas on February 11, according to testimony from the Mutual UFO Network (MUFON) database.
The person making the February 27 report is a friend of the person who took the photo, according to the report.
The following is the unedited and as yet uninvestigated report filed with MUFON. When little information is given, be extra cautious of a hoax. Please keep in mind that most UFO reports can be explained as something natural or manmade. If Texas MUFON investigates and reports back on this case, I will release an update.
Texas, February 11, 2010 - Round disk shape over Cowboys Stadium in Arlington, Tx.
MUFON Case
# 22026
.
I want to start out to explain this is NOT my photo, but a friend of mine that posted it on Facebook. But I am a paranormal investigator.
When she took the picture, she saw or heard nothing. She didn't know anything was even on the photo till she posted it and I saw it on there because she never really looked at it except in a thumbnail form.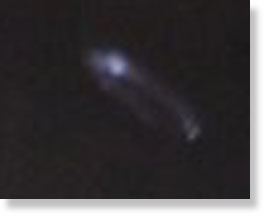 When I saw it I was floored. I have never seen a picture that clear of a real unidentified object caught on camera.
Photo: Witness photo was cropped and enlarged for this page. MUFON database.
The girl that took the photo was working part time at the stadium that night. The picture was either taken on 2/11/2010 or 2/12/2010.
That was then North Texas got that record breaking snow fall in 24hrs. ever. It was like 12 to 14 inches. I'm not sure of the event that they had their that night, but as you can see in the photo the parking lot had pretty much cleared out. I was hoping this photo could be further analyzed.
I'm sure it was taken with your basic $100 digital camera.