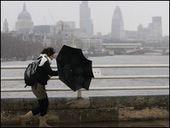 Large parts of the UK are on flood alert after heavy rain, with further torrential downpours and strong winds predicted for southern England.
The Met Office has issued a severe weather warning for south-east England and says up to 20mm (0.8in) of rain could fall on already saturated ground.
There is one severe flood warning and eight flood warnings in place for East Anglia and north-east England.
Some 103 flood watches are in force for much of the rest of England and Wales.
Two flood watches are currently in force in Scotland for the east coast from Peterhead to Berwick, and the Solway Firth from the Esk Estuary to Loch Ryan.
Gale-force winds
The severe flood warning affects King's Ripton, Broughton, Wistow, Bury and Ramsey in East Anglia.
The flood warnings for England affect parts of the River Nene, east of Peterborough and sections of the River Ouse south of York, and the River Derwent, north east of the city.
A severe flood warning means severe flooding is expected, with extreme danger to life and property. Flood warnings mean flooding of homes and businesses is expected.
Less serious flood watches indicate that low-lying land and roads could become flooded.
The Environment Agency said its officials were watching the situation closely and a spokesman urged people in the affected areas to be prepared.
"If flooding does occur in your area, (it's) best to stay out of flood water. Flood water is often contaminated, it's often dirty and if it's fast flowing, can be extremely dangerous," said the agency's David Beddlington.
"Even a few inches of water, if it's flowing, can knock people off their feet, and often you can't actually see through flood water. It's often muddy or dirty and there may be debris under the water.
"Some manholes may have burst their covers, so it's really important to stay out of flood water, a very important message," he said.
BBC weather forecaster Philip Avery said south-east England would be "pretty wet and windy" for a good part of the day but predicted that "most areas will be dry by late afternoon, early evening."
Skiers rescued
Some areas could see winds of up 40-50mph on Sunday.
The rest of the UK will experience a mix of weather on Sunday with the "calm after the storm" likely on Monday, he added.
Scotland saw the return of snow last week, and two skiers had to be rescued after being caught in an avalanche on Saturday.
The men, who suffered leg injuries, were airlifted from the Cam Ghleann area of Glencoe.
On Friday a woman died when her Land Rover was swept down a river near Cropton in North Yorkshire.
Police found 53-year-old Vanessa Robson's vehicle almost totally submerged under a bridge and it took divers four hours to find her body.