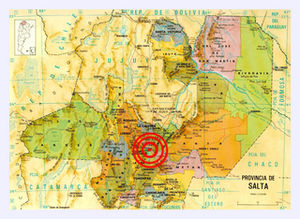 Two people died in Salta, due to a quake of 6.1 in the Ritcher scale, which hit the Argentinean province.
The dead are an eight year old boy and an man of 70 years old, who were crushed by a wall that fell due to the quake.
The boy was playing with others, near California's farm in La Merced, where the a wall fell and hit them. The children were taken to a local hospital but one died because of the multiple injuries that he had suffered.
The child was identified as Mariano Martinez and was a native of Valle de Lema, located in the center of the province of Salta.
The old man died when his home, located in the town of La Silleta, in the same province, collapsed due to the earthquake. The man's home was in a very remote place, and can only be reached by horse. The granddaughter and daughter of the older man were also in the house, but only suffered injuries and are out of danger.
Meanwhile, a wall of the Cathedral of Salta broke, where images of the Lord of the miracle that is revered by the people of the north as the protector of this city were kept.
In the provincial capital, after the material damage in the cathedral, dozens of people gathered this afternoon to start to pray in order to seek for protection for the city and for the victims of the earthquake in Chile.