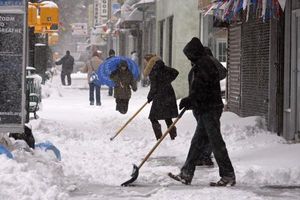 New York - A record-breaking winter storm slammed New York and much of the U.S. Northeast on Friday, forcing businesses, schools and transportation systems to shut down as nearly two feet of snow fell in the city.
Commuters struggled in the absence of suburban train and bus services into New York City, where the National Weather Service said more than 20 inches of snow had fallen so far with the storm set to become the third heaviest on record.
The heaviest storm to hit New York was in February 2006 when 26.9 inches blanketed the city. The latest storm took New York City's total snowfall for February to more than 36 inches, making it the snowiest month on record.
"Enough is enough -- I am tired of shoveling," said retired Ron Rigo, 62, as he tried to dig out his car in a Manhattan street. "It's the worst winter in recent years."
The storm also dampened enthusiasm on Wall Street where trading on Friday was light. U.S. Treasury and bond trading was also dull.
The slow-moving wintry blast, which began on Thursday and was predicted to last through Saturday with several more inches of snow forecast for New York City, was the third heavy storm to hit the region in a month.
More than one million homes and businesses across the Northeastern United States had suffered blackouts in the past day and about 700,000 were still without power on Friday.
The effects of the bad winter weather could be felt throughout a U.S. economy struggling to emerge from recession.
"The issue ... has been the unusual weather this quarter, said Subodh Kumar, chief investment strategist at Subodh Kumar & Associates, in Toronto.
Schools closed, flights canceled
At the United Nations, the Palestinian Authority's permanent observer Riyad Mansour told the 192-nation General Assembly that the storm was to blame for 56 countries failing to show up for a vote on a resolution demanding credible Israeli and Palestinian investigations into U.N. allegations of war crimes during last year's conflict in the Gaza Strip.
In New York City, subway service was slowed and buses struggled to navigate snow-covered streets.
Strong winds, gusting up to 60 miles per hour in eastern Long Island, posed danger to those venturing outside, the National Weather Service said. In Philadelphia, winds gusted up to 50 miles per hour and the city declared a snow emergency, its fourth of the winter.
Among the storm's casualties, a man was struck and killed by a snow-laden tree limb that fell in Central Park on Thursday and the roof of a home in suburban New Jersey collapsed under the heavy snow.
Schools were closed in New York City, Philadelphia and elsewhere in the Northeastern states.
Hundreds of flights were canceled at Newark Liberty International Airport, while delays were reported at John F. Kennedy International Airport and flights canceled at Philadelphia's airport, authorities said.
Amtrak canceled regional trains in upstate New York, and commuter bus service was suspended in northern New Jersey.
"I like the snow. I am from Russia. For me it's nothing," said Nadia Asanova, 31, as she sipped on a cup of coffee. "I don't think it's a big deal."
(
Additional reporting by Jon Hurdle in Philadelphia and the New York bureau; Editing by Anthony Boadle
)