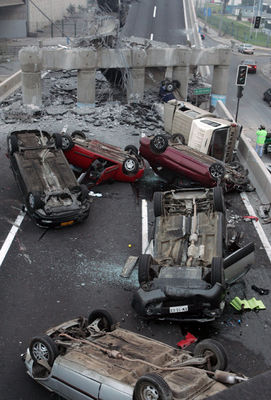 A huge 8.8-magnitude earthquake rocked Chile early Saturday killing at least 64 people, toppling buildings and triggering a tsunami warning around the Pacific rim of fire, a government minister said.
The massive quake plunged much of the Chilean capital, Santiago, into darkness as it snapped power lines and severed communications, and AFP journalists spoke of walls and masonry collapsing. People in pyjamas fled onto the streets.
Residents in the south of the city, which appeared to have borne the brunt of the quake, said roads had crumpled and a bridge had been damaged, as an AFP correspondent said buildings "shook like jelly."
Japan's meteorological agency also warned of a tsunami risk across large areas of the Pacific including as far away as the Antarctic as the Philippines warned low lying coastal areas to prepare for a possible evacuation. Related article:
'Widespread' tsunami warning for Pacific nations
Chilean President Michele Bachelet and her officials rushed to their offices to coordinate disaster relief, state television said, as powerful aftershocks panicked the population of the quake-prone Latin American country.
Earlier, the president said 10 victims were reported in the area of Bio Bio, five in Maule and one in Araucania.
"With the quake of this magnitude and given its timing, we cannot rule out other casualties," Bachelet said.
The quake struck at 3:34 am local time (0634 GMT) when many Chileans were still in nightclubs partying at the start of the weekend.
It was swiftly followed by a series of aftershocks ranging from 5.6 to 6.9 on the Moment Magnitude Scale.
Santiago lies 325 kilometers (200 miles) northeast of the epicenter of the quake, which hit at a depth of 35 kilometers (21.7 miles).
It struck 100 kilometers (60 miles) northwest of the Chilean town of Chillan, the US Geological Survey said, and 115 kilometers (70 miles) northeast of Concepcion, a city of about a million people.
The US Pacific Tsunami warning center issued a "widespread" tsunami warning for all Pacific nations.
"Sea level readings confirm that a tsunami has been generated which could cause widespread damage," the Pacific Tsunami Warning Center said.
Authorities should take "appropriate action," it added, but said the warning did not apply to the west coast of the United States.
"There is a possibility that tsunami will widely occur in the Pacific Ocean," an official for the Japanese meteorological agency said. "We are now checking if tsunami may hit Japanese coastal areas."
Asian nations have been on heightened alert ever since a massive 2004 tsunami that killed more than 220,000 people around the Indian Ocean.
Japanese Prime Minister Yukio Hatoyama ordered his government to be prepared to offer support for victims if necessary, Jiji Press reported.
"Swift action should be required," Hatoyama told reporters. "It appears to be fairly sizable. I told ministries concerned to be ready to take measures in case relief assistance is needed."
The Philippines' government warned coastal communities on the eastern side of the archipelago Saturday to prepare for possible evacuation.
"No evacuation order is in effect but communities along the east coast of the country are advised to wait for further information and to prepare for possible evacuation," a government institute said in an advisory.
Australia's east coast was also put on tsunami alert.
US seismologists had initially put the magnitude of the tremor at 8.5 but later adjusted it to 8.8.
Earthquake-prone Chile lies along the Pacific rim of fire and is regularly rocked by temblors, but damage is often limited as they mostly hit in desert regions which are sparsely populated.
In May 1960 the country was ravaged what is now known as Valdivia or Great Chilean Earthquake, which was rated 9.5 on the moment magnitude scale.
The resulting tsunami affected southern Chile, Hawaii, Japan, the Philippines, reaching as far as eastern New Zealand and southeast Australia.
The estimated death toll from that disaster ranged from over 2,200 to 5,700.