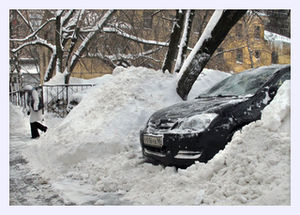 Thousands of snow-removal vehicles hit Moscow's streets Tuesday after a record snowfall dumped 67 centimeters of snow on the city over the extended holiday weekend.
The heavy snowfall convinced residents to stay at home for the four-day Defender of the Fatherland holiday, leaving many streets eerily empty and halving the usual number of traffic accidents.
Three days of snow flurries had covered the city with 67 centimeters of snow by Tuesday morning, which dawned bright and clear, the Moscow weather bureau said, Interfax reported.
Meteorologists have not counted such a large amount of snowfall since they started keeping records in the capital.
The previous record of 65 centimeters was set on Feb. 18, 1966, the weather bureau said.
The most snowfall previously recorded on Feb. 23 was 60 centimeters in both 1970 and 1902, it said.
Snowfall reached 63 centimeters on Monday morning, passing a 1966 record of 62 centimeters for Feb. 22, it said.
The snowfall occurred when a low-pressure system from the Mediterranean collided with a high-pressure system from the north, weather news web site Meteonovosti.ru said.
Moscow's communal services department has deployed 5,500 workers and 20,500 vehicles to clear the city's streets from snow, department spokesman Igor Pergamenshchik told RIA-Novosti. The workers and vehicles collected 425,000 cubic meters of snow Monday, he said.
The number of cars on the streets dropped by a third because of the heavy snowfall, leading to a sharp decrease in road accidents, city traffic police spokesman Maxim Galushko told RIA-Novosti.
Traffic police registered a combined total of 39 major and 3,323 minor accidents that killed two people and injured 45 others on Saturday and Sunday, while the daily figure is usually 30 to 35 major accidents and 2,000 to 3,000 minor ones, Galushko said.
At least two roofs collapsed under the weight of the snow, including the roof of an exhibition hall in Sokolniki Park in northeastern Moscow and the roof at an engine-building plant in the city's southwest, RIA-Novosti reported.
Light snowfall is forecast for later this week, with temperatures hovering between minus 1 and minus 6 degrees Celsius.