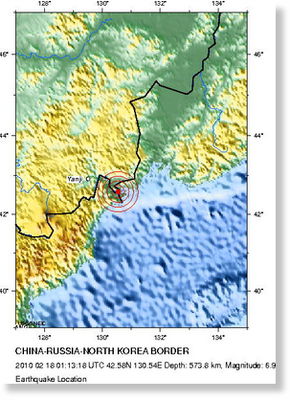 A magnitude 6.7 earthquake rocked the region where China, Russia and North Korea meet Thursday, the U.S. Geological Survey said. There were no immediate reports of damage or injuries.
Though area residents said they did not feel the quake, office towers in Beijing - about 770 miles (1,240 kilometers) away from the epicenter - swayed slightly for about a minute.
The quake occurred 335 miles (540 kilometers) below the earth's surface.
With earthquakes centered deep underground, sometimes those close to the epicenter don't feel it while people further away notice some shaking, said the duty officer at the Seismological Bureau of Yanbian Korean Autonomous Prefecture in northeast China's Jilin province. He refused to give his name as is common among Chinese officials.
The Korea Earthquake Research Center said there was no damage in North or South Korea and that quakes occur in that region about once a year.
The USGS said the epicenter was on the Russian coast along the Sea of Japan, 61 miles (98 kilometers) west-southwest of Vladivostok, about 70 miles (110 kilometers) east of China's Yanji city in Jilin province.
Details from USGS:
Date-Time:
Thursday, February 18, 2010 at 01:13:18 UTC
Thursday, February 18, 2010 at 10:13:18 AM at epicenter
Location:
42.581°N, 130.537°E
Depth:
573.8 km (356.6 miles)
Distances:
90 km (55 miles) ESE of Yanji, Jilin, China
100 km (60 miles) NNE of Chongjin, North Korea
1110 km (690 miles) NW of TOKYO, Japan
1215 km (760 miles) ENE of BEIJING, Beijing, China
Location:
Uncertainty horizontal +/- 4.4 km (2.7 miles); depth +/- 6.7 km (4.2 miles)
Parameters:
NST=351, Nph=351, Dmin=239.3 km, Rmss=0.88 sec, Gp= 14°,
M-type=teleseismic moment magnitude (Mw), Version=7
Source:
USGS NEIC (WDCS-D)
Event ID:
us2010swaf