This week, the brightest auroras of the year have been surging around the Arctic Circle. Never one to waste a photo-op, English astrophotographer Pete Lawrence boarded a "Northern Lights flight" on Feb. 15th, and this is what he saw 37,000 ft over the Shetland Islands: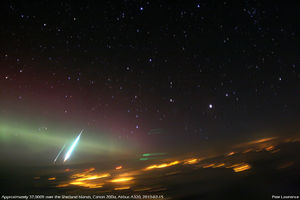 "The display was awesome and completely occupied the view, illuminating the fuselage and clouds below us in an
eerie green light
," says Lawrence. "At one point, a brilliant fireball streaked down towards the horizon. If you're wondering why there are two fireball trails, the main one was so bright that it left a noticeable reflection in the plane window. What a night!"
What a night, indeed. It could be just the first of many. The opening months of 2010 have brought a sharp increase in solar activity and a concomitant brightening of the aurora borealis. NOAA forecasters estimate a 25% - 30% chance of more polar geomagnetic activity in the next 48 hours. A tip for flyers: Grab that window seat.