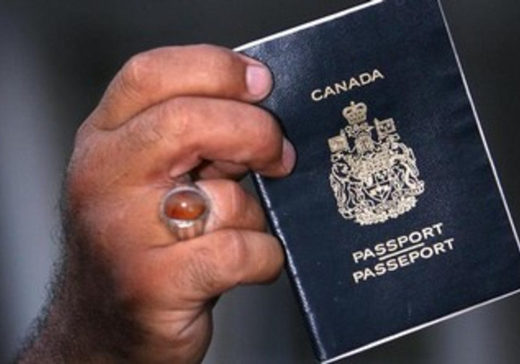 Mossad, the Israeli spy agency, has been hit with new allegations that its agents use Canadian passports to conduct foreign covert operations.
The allegations surfaced yesterday in a courtroom in Auckland, New Zealand.
The court heard that one of two men charged with participating in an organized crime group to obtain a false passport had earlier travelled into the country with a Canadian passport.
Urie Zoshe Kelman, 30, entered the country with Canadian documentation five years ago, on Feb. 2, 1999, the court heard. His stay lasted eight weeks and he left the country, headed for Melbourne, Australia, using a temporary replacement Canadian passport obtained while in New Zealand.
Senior government officials in New Zealand have told reporters there that Mr. Kelman and Eli Cara, his 50-year-old co-accused, are agents of Mossad, the Israeli foreign spy service.
"We're aware of the allegations, or the alleged information, that surfaced in the court case in New Zealand. Nothing else can be added at this time," said Reynald Doiron, a spokesman with Canada's Department of Foreign Affairs.
While the Canadian government is keeping a close eye on the Auckland court case -- it learned of the developments just two days ago -- there has been no official communication with the Israeli government.
Similar allegations have caused serious diplomatic problems in the past.
In 1997, Canada pulled its ambassador from Israel after two Mossad agents were caught using Canadian passports during a failed assassination attempt on Khalid Mashaal -- a leading Hamas official -- in Jordan.
Israel assured Canada then that Canadian passports would no longer be used for covert purposes.
However, the
National Post
reported in 2002 that an informant had supplied information to Israeli agents posing as Canadians while on a mission to locate a senior Hamas leader in Gaza. Militant Palestinian leader Salah Shehadeh was later assassinated by Israeli forces in a July 23 missile attack that also killed 14 others, including nine children.
The informant claimed he was recruited by three agents who said they were Canadians and took him to the Canadian embassy in Tel Aviv before coercing him with promises of travel to Canada and threats to distribute fake photos showing him in sexual encounters.
"Mossad is, by tradition and culture, a rather singularly ruthless intelligence organization,"
said intelligence expert Wesley Wark, a professor at the University of Toronto. "It is one that sees its role as defending the survival of Israel. From conversations I've had with people in that world, it does take that mission very seriously. And
Mossad, unlike some other Western intelligence agencies, is relatively unshackled by internal bureaucratic controls
or Israeli legal restraint."
Mr. Doiron said it is too early to tell whether the co-accused in this case are linked to Mossad. "We cannot conclude that at this time," he said.
In fact, the passport numbers that have surfaced in court do not, at first glance, appear to be authentic. Mr. Kelman flew to Auckland from Los Angeles on Qantas Flight QF101 using Canadian passport CA PC 038241. He left March 30, 1999, flying to Melbourne, Australia on Qantas Flight QF36 with a replacement passport bearing the same number.
Authentic Canadian passports have only two letters -- signifying the year the document was issued -- and six letters.
A source said it would be surprising if Israel's meticulous intelligence agency had in fact botched a passport forgery.
Contacted by the
Post
yesterday, Ofir Gendelman, second secretary with the Israeli mission in Ottawa, said he was aware of the court case, but unfamiliar with the allegations one of the men had used a Canadian passport.
"That's news to me," he said. Mr. Gendelman refused to comment on how an apparently bogus Canadian passport came to be in the possession of an Israeli citizen. He would not answer charges that the men were Mossad operatives.
"We know nothing about it," he said.
Mr. Wark said Mossad has used Canadian passports in the past to avoid suspicion when travelling the world, particularly the Middle East.
"While we have a history of pretty high level of negotiations and very strong condemnations [from the Canadian government] in exchanges with the Israelis requiring them to stop this practice, there's no sign that those demarches have ever really had a serious effect," he said. "If it's an operational necessity they'll use it."
The alleged criminal enterprise to obtain New Zealand passports was discovered -- and charges laid against Mr. Kelman and Mr. Cara -- after Zev William Barkan, who is travelling on a U.S. passport, used the name of a man with cerebral palsy to obtain a passport. A customs investigator noticed an irregularity with the application and telephoned the applicant.
He said he was suspicious because the person had "a Canadian or American accent" according to the
New Zealand Herald
. Police launched an investigation, which resulted in the March 20 arrest of the two men and subsequent charges. Unusually, the case has been fast-tracked into court.
Mr. Barkan has gone missing but police allege surveillance operations linked him to Mr. Cara and Mr. Kelman.
It remains unknown why the men were in the country.