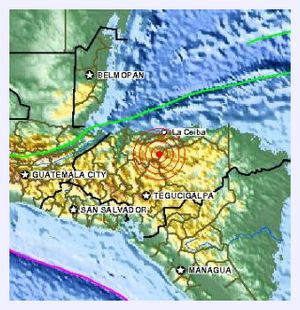 Tegucigalpa - At least nine homes were destroyed and 142 were damaged by the recent magnitude-6.1 earthquake that shook the northern and central regions of Honduras, the nation's civil-defense office said on Saturday.
Thursday's temblor, which caused no fatalities, also damaged six schools and two churches, the Copeco emergency-preparation commission said in a communique.
Material damages occurred in at least 23 communities in the municipalities of Yoro, Yorito and Sulaco, and in the northern province of Yoro, and in Marale, Francisco Morazan in central Honduras, Copeco added.
Marale also suffered damages from the magnitude-5.5 temblor in 2008.
On Thursday, minutes before the magnitude-6.1 quake, the country was hit by another, a 4.9-magnitude temblor whose epicenter was in the western province of Santa Barbara and which left no damages or victims.
A magnitude-7.1 earthquake that had its epicenter in the Caribbean Sea shook a large area of Honduran territory on May 28, 2009, causing seven deaths and widespread material damage, with numerous aftershocks in the following weeks.