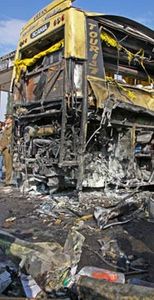 Israel is waging a covert assassination campaign across the Middle East in an effort to stop its key enemies co-ordinating their activities.
Israeli agents have been targeting meetings between members of Hamas and the leadership of the militant Hezbollah group, and the Iranian Revolutionary Guards.
They are also suspected of recent killings in Dubai, Damascus and Beirut. While Israel's Mossad spy agency has been suspected of staging assassinations across the world since the 1970s, it does not officially acknowledge or admit its activities.
The current spate of killings began in December when a "tourist bus" carrying Iranian officials and Hamas members exploded outside Damascus. The official report by Syria claimed that a tyre had exploded but photographs surfaced showing the charred remains of the vehicle - prompting speculation that a much larger explosion had taken place.
Several weeks later a meeting between members of Hamas, which controls Gaza, and their counterparts from Hezbollah in its southern Beirut stronghold in Lebanon was also attacked, resulting in several deaths.
Hamas had sought to cover up the incidents because it was embarrassed, a senior Palestinian official in Ramallah told
The Times.
"There has been growing co-operation between Gaza and Iran. Israel can read the writing on the wall and they know that with the help of Iran, the Hamas Government in Gaza will become stronger and will fight better.
"But Israel is overstepping their boundaries. Other countries don't want to become a killing field for the Israeli-Palestinian conflict."
Most recently, the top Hamas leader Mahmoud al-Mabhouh was killed in Dubai on January 19, 2010. He is believed to have been poisoned by a woman who visited his room at the Al Bustan Rotana Hotel in Dubai.
Israeli officials said that Mabhouh had been a key figure in procuring Iranian-made longer-range rockets for Hamas that could be fired at targets in central Israel.
The exiled Hamas leader Khaled Mashaal has vowed revenge for Mabhouh's death. He has also suggested that the current fighting between Hamas and Israel will become more regional. In an interview with the London-based al-Hayat newspaper, Mr Mashaal said that future wars with Israel would not be fought solely in the Gaza Strip.
Under the current Mossad chief, Meir Dagan, Israel is believed to have renewed efforts to kill high-level opponents. Only months after the former paratrooper assumed leadership of the intelligence service in October 2002, senior Hezbollah operatives in Lebanon began to be targeted. He was credited with ordering the killing of two relatively senior Hezbollah members who were killed in southern Beirut in July 2003 and August 2004.
More recently, Israel has been accused of planting a car bomb in Damascus that killed the top Hezbollah leader Imad Mughniyah in February 2008. The Israeli Cabinet minister Daniel Herschkowitz last week praised the Mossad chief as one of the agency's most successful leaders.
When asked about Mossad's involvement in the Dubai slaying, Eli Yishai, the Interior Minister, smiled and said: "All the security services make, thank God, great efforts to safeguard the security of the state of Israel."
While some countries are questioning whether Israel isn't taking credit to increase the reputation of its defence establishment, other moderate Arab States are now describing the assassinations as a "covert war" between Israel and Hamas.
Diplomats said they were aware that covert Israeli operations had increased. "We watch their comings and goings; we are aware that there is more activity both on our ground and other countries in the region," said an Egyptian diplomat. "They are trying to embroil us all in their conflict."
Tensions between Israel and Hamas have remained high, despite the relative quiet that has ensued since the end of Israel's offensive in Gaza last winter. Israeli troops were placed on alert yesterday after intelligence suggested that Hamas planned to abduct soldiers. Israel said this week that it had foiled a kidnapping in December by arresting the Hamas operative Slaman Abu Atik on the Israeli-Gaza border. He planned to enter Israel via Egypt, said the Shin Bet, Israel's internal security service.