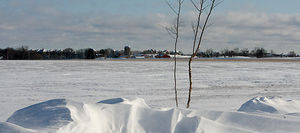 A mild earthquake shook northern Illinois this morning.
The
U.S. Geological Survey
reported a 3.8-magnitude quake at 3:59:33 a.m. centered in a farm field on Plank Road in Elgin near Hampshire and 3.1 miles underground. Initially, it had reported the magnitude as 4.3 with an epicenter about 5.5 miles east of Sycamore.
The quake was felt over a wide area -- from Wisconsin to Tennessee -- but there were no reports of any damage so far, according to the Kane County and DeKalb County sheriff's departments, which are closest to the epicenter.
"We got hundreds of calls," said DeKalb County Sheriff Roger Scott. "But we have no reports of damage or injuries."
The magnitude and epicenter were revised after the U.S. Geological Survey studied the "wave forms" from the quake, said Amy Vaughan, a geophysicist with the geological survey in Golden, Colo.
"The information was better understood," she said.
The nature of the fault activity that caused the quake was unclear, Vaughn said. Past quakes that have affected southern Illinois have been in the Wabash Valley or New Madrid seismic zones.
The fault systems in northern Illinois are not as well understood as those in other regions where earthquakes are more common, and more investigation will be needed to determine the cause of this morning's temblor, Vaughan said.
A 5.2-magnitude earthquake struck near downstate West Salem on April 18, 2008. That quake was the worst to hit Illinois since 1968.
By contrast, the earthquake that leveled Haiti on Jan. 12 registered 7.0 on the Richter Scale, meaning it was about 1,600 times the magnitude of the one this morning. Many of the numerous aftershocks to hit the island were approximately the same magnitude as the quake that hit near Hampshire today.
Reports of tremors came in from Villa Park, Western Springs, Minooka, Batavia, Naperville, Elgin, Oak Lawn, Des Plaines and even Crown Point, Ind. In Chicago, reports came from the Northwest Side and Logan Square. The USGS has received thousands of reports from
as far north as Madison, Wis., and as far south as Bourbonnais
.
"The whole house shook," said Walter Mockus of St. Charles. "The chimes that hang were all ringing. It was so loud, I thought a plane had gone down."
"It was 4:02 a.m. and I was in bed and felt the whole house shaking," said Bob Bulmash of Warrenville. "But nothing fell down. It lasted about 3 to 5 seconds."
In Naperville, Julie Hannon said the quake shook her out of a sound sleep.
"When you feel an earthquake, it makes you wake up right away," said Hannon, who said she had experienced several quakes when she lived in Japan. "You could feel a shaking and you could hear a rumbling."
"I heard the plates I didn't wash from dinner rattle," said Alice Fabbre of Joliet. "The house shook, but it was very short. At first, I thought it was a snow plow going by."
"It shook me out bed. I was was sleeping and the whole bed was shaking, it was that violent," said Rex Covington, who lives in Plato Center Township, about five miles west of Elgin. He estimated the tremor lasted 5 or 6 seconds.
"When I called 911, she said they felt the shock too and said their whole building in Geneva shook."
In Oak Lawn, Ron Cerevic, who lives on the second floor of an apartment building, said it felt "like someone hit the side of the building."
"The glass shower door shook violently," said Tracey Fry of Carol Stream. "It sounded like someone was in the shower pounding on the door."