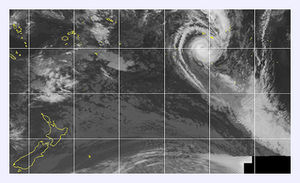 Cyclone Oli is rapidly intensifying and has prompted red alerts on Tahiti and islands nearby.
Hundreds of tourists and locals have been evacuated into schools and hospitals as high winds and very high waves lashed a wide area of French Polynesia.
Auckland Regional Council chairman Mike Lee, who was on the Tetiaroa, north of Tahiti, was among a group of New Zealanders flown to the main island by the French Military ahead of the cyclone.
Regional meteorological services say Oli is located approximately 300 kilometres southwest of Tahiti and 380 km north of Rurutu.
Today it has under gone a very rapid intensification from Category 1 to Category 4 on the Saffir-Simpson Scale where five is the highest.
Maximum sustained winds are now 212 kilometres per hour.
The French High Commission has a raised a Red Alert for the Windward Islands including Tahiti, Moorea, Maiao, Mehetia and Tetiaroa.
Fears are held for the islands of Rurutu (2200 people), Tubuai (2200), Raivavae (900) and Rapa (500).
A dozen people were reported injured in Bora Bora, including one seriously injured after falling from a roof.