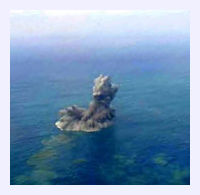 An undersea volcano erupted Wednesday, spewing columns of smoke and ash into the Pacific Ocean sky.
A patrol vessel from the 3rd Regional Coast Guard Headquarters visited the area, some 5 kilometers from Minami-Iwojima island in the Ogasawara island chain, around 7:45 a.m.
The volcano is called Mount Fukutokuokanoba. It is located about 1,300 kilometers south of Tokyo.
A fly-over by a coast guard helicopter at 1 p.m. reported continued activity. Observers said the water in the immediate vicinity of the volcano had turned yellowish green.
Mount Fukutokuokanoba has a history of spectacular volcanic activity. Eruptions in 1904, 1914 and 1986 created islands, which subsequently became submerged.