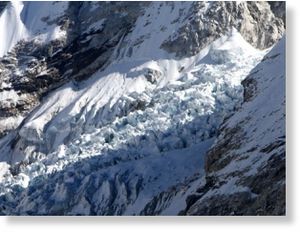 The embattled chief of the UN climate change panel has admitted that a mistake in a landmark 2007 report had damaged the body's credibility, in an interview with a British newspaper.
But Rajendra Pachauri, chairman of the Intergovernmental Panel on Climate Change, refused to apologise in the interview with the
Guardian
for the erroneous claim that global warming could melt Himalayan glaciers by 2035.
The Nobel-winning panel has faced fierce criticism over the mistake - which has been discredited by glaciologists and is being withdrawn - and the controversy has given fresh ammunition to climate sceptics.
"I think this (glacier) mistake has certainly cost us dear, there's no question about it," Pachauri told the newspaper.
"Everybody thought that what the IPCC brought out was the gold standard and nothing could go wrong."
But when pressed to give a personal apology over the error - just the latest controversy to hit the UN panel - the climate scientist refused.
He said the IPCC had issued a statement expressing regret and he was not personally responsible for that part of the report.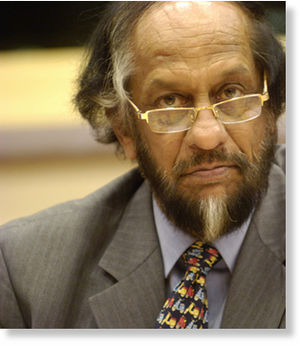 "You can't expect me to be personally responsible for every word of a 3,000 page report," he said,
dismissing the idea of an apology as a "populist" move
.
The revelation of the fake glacier claim was a heavy blow to the climate change panel, as the report it came from was regarded as the scientific touchstone for faltering global climate talks.
The IPCC's landmark
Fourth Assessment Report
in 2007 said the probability of glaciers in the Himalayas "disappearing by the year 2035 and perhaps sooner is very high".
But
there is no evidence the claim was published in a peer-reviewed journal
, a cornerstone of scientific credibility, and reports in Britain have said
the reference came from green group the WWF
.
Despite the damage done to the IPCC by the mistake and the negative publicity it has attracted, Pachauri called for people to move beyond the controversy.
He called for people to "look at the larger picture, don't get blinded by this one mistake".
"The larger picture is solid, it's convincing and it's extremely important. How can we lose sight of what climate change is going to do to this planet?" he said.
The glacier error is just the latest controversy to hit the IPCC amid troubled UN climate talks, which were already severely set back after the near collapse of December's Copenhagen climate summit.
The panel came under ferocious attack ahead of the Copenhagen talks over hacked email exchanges which climate sceptics say reflected attempts to skew the evidence for global warming.