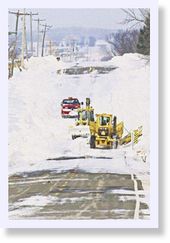 The last time there was more snow in Des Moines in December and January, the world was emerging from a several-hundred-year era of cold temperatures dubbed the "Little Ice Age."
Des Moines received 6.4 inches of snow Monday at the airport, pushing the total snowfall since Dec. 1 in the city to 41.4 inches. That topped the 37.2 inches in Des Moines during the same period in 1897-1898.
The record snowfall for Des Moines in December and January is 50.2 inches in 1885-86. Elwynn Taylor, Iowa State University Extension climatologist, said the world was coming out of the Little Ice Age in the 1880s.
Climatologists said that during the era that lasted 200 to 300 years, North America and Europe experienced colder-than-typical winters that featured large amounts of snow.
December and January this winter also are second in snowfall for Iowa as well, state Climatologist Harry Hillaker said. Four of Iowa's snowiest December-January periods dating to the winter of 1887-88 have occurred in the past 10 years.
Monday marked the 48th day in a row that snow depth at the Des Moines airport measured at least 5 inches. It's expected to stay that way at least another week.
The National Weather Service said: "This is currently the third-longest streak on record of consecutive days with at least 5 inches of snow on the ground at Des Moines, surpassing ... 47 days from Feb. 10 through March 27, 1960. The record remains 54 days from Dec. 12, 1961, through Feb. 3, 1962."
The weather service said that streak is in jeopardy this winter.
"Ice just doesn't melt very well," Hillaker said. He said much of this winter's precipitation is locked in the icy snow that is on the ground. It may not be as deep, but it's very concentrated.
The tab for clearing snow and ice will probably reach $3.4 million after the latest round of winter weather, Des Moines Public Works Director Bill Stowe said. The city's budget is $3 million for the entire winter.
Money for Des Moines' snow and ice control comes from a larger road operations and maintenance budget of $9.5 million. That could mean less money for paving projects.
About 50 miles of city streets are resurfaced annually. Two years ago, about nine fewer miles of city streets were resurfaced after snow and ice removal costs exceeded the budget by $750,000.
Polk County, Johnston, Urbandale and West Des Moines have also used sizable portions of their snow and ice control budgets. Polk County has spent about $1.1 million, or 75 percent of its snow and ice control budget, said Larry Land, the county's public works director.
Drivers on Monday were fighting poor visibility with blowing snow. Cars that veered into ditches still clogged roadsides on Tuesday but road conditions were improving.
The wind was responsible for blowing 2 to 6 inches of snow on Monday, but it was the surface of the snow on the ground that made a difference, Hillaker said.
"There was a totally frozen sheet of ice on top of the snow," he said. "The snow that fell had almost no adhesion to the icy surface. That made the blowing snow much, much worse. That was the wild card."