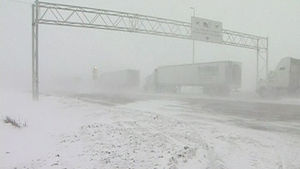 A harsh blast of winter weather is wreaking havoc on the Prairies, with high winds and blowing snow making travel treacherous Monday across southern Manitoba -- even stopping snow plows.
Blizzard conditions continued throughout the Southern Red River Valley on Monday afternoon, where Environment Canada weather warnings are in affect.
"Strong north winds" were expected to "reduce visibilities to near zero in blowing snow," the warning said. "Gradual improvement is expected through the afternoon."
"We've got wind gusts of up to 80 kilometres per hour, so there is near zero visibility over parts of Manitoba," spokesperson Sandy Massey told The Canadian Press.
The storm closed the Trans-Canada Highway west of Winnipeg, as well as Highway 75 between Winnipeg and the U.S. border, the provincial government's website said.
Manitoba highways information manager Neil Gobelle said that snow plows would stay off the roads as long as driving conditions were so treacherous.
The province also issued driving advisories for many highways across southern Manitoba, warning people to stay off the affected roads. And there were a number of flight delays at Winnipeg airport Monday afternoon.
After the storm abates, Environment Canada said the southern Manitoba is in store for sunny skies Tuesday.
Over the weekend, the blizzard knocked out power to thousands of people in Saskatchewan.
High winds and blowing snow closed the Trans-Canada Highway from west of Regina to Rush Lake on Sunday, and shut down parts of 20 other highways, including Highway 11 between Regina and Davidson.
Customers were still without power early Monday in the Coronach-Rockglen-Big Beaver areas.
SaskPower spokesperson James Parker told The Canadian Press that repair crews have had difficulty reaching the area due to the wintry weather conditions, but power should be restored to all customers later on Monday.
Blizzard warnings were still in affect for parts of southern Saskatchewan early Monday, but had been cancelled by midday.
The storm dumped at least 35 centimetres of snow on Regina over the weekend, and about 20 centimetres on Saskatoon.
The weather also led to delays and cancellations at Regina International Airport on Sunday. But the airport's website indicated that most flights scheduled for Monday were expected to depart or land on time.
Source - The Canadian Press