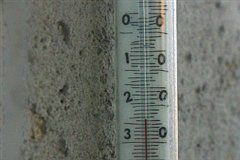 As temperatures plunge to minus 30 C in some places in Poland, the winter claimed more lives, the Government Security Center (GSC) has announced.
"Sixteen people have died from hypothermia over the weekend, eleven of them within the last 24 hours," GSC's Bozena Wysocka told Polskie Radio.
The statistics do not only concern the homeless, as some people have frozen to death in their homes. The dead also includes a 13-year old boy found on Saturday, who died on his way home.
The extreme weather conditions caused power outages due to network failures, with entire provinces deprived of electricity in southern Poland. The military has for several days now been assisting the efforts to remove ice from electricity lines. About 8,000 households remain without power in the country.
Meanwhile, last night the temperature has hit a new low, with -30 degrees C in the eastern parts of the country. What's worse, some parts of southern Poland are still deprived of electricity after heavy snow falls at the beginning of January. At the ground level, the temperature fell even below -30 degrees Celsius (-22F) in south eastern Poland, Anna Nemec of a weather forecast center told the newspaper. Tonight is supposed to be even colder. Only in January, over 70 persons died due to the harsh weather conditions.