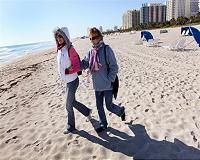 Florida woke Monday to another day of bone-chilling temperatures after days of Arctic air that have kept the southern United States -- including the usually balmy Sunshine State -- in a deep freeze.
Florida's usually mild and sunny winter weather has given way to record low temperatures during the historic cold snap.
In Miami, the thermometer dropped over the weekend to 35 degrees Fahrenheit (1.6 Celsius), the coldest since 1970.
The cold wave has wreaked havoc with Florida's 9.3-billion-dollar-a-year citrus industry and threatened regional agriculture elsewhere as well, including Louisiana's sugar cane crop.
South of Miami, the National Weather Service (NWS) early Monday reported a record low temperature in Key West, Florida of 42 degrees Fahrenheit (five degrees Celsius) -- the coldest temperature in 40 years.
The Miami area and the rest of southeast Florida were warned to brace for more temperatures skirting freezing, before warming up later in the week.
And forecasters said winds of up to 20 miles (31 kilometers) per hour in some areas were making weather conditions seem much colder.
Forecasters said it was "rare that the cold weather lasts as long as it has" in Florida, home to warm weather winter destinations as Miami, Fort Lauderdale, Tampa and Orlando.
Meanwhile, wildlife conservation groups have warned that python snakes and other cold-blooded critters might slither inside residents' homes seeking shelter from the cold.
The frigid weather also caused several fatal accidents over the weekend.
On Saturday, in the outskirts of Atlanta, Georgia, two boys aged 13 and 15 drowned when the frozen lake they were playing on suddenly cracked open, Atlanta's Constitution Journal said.
Georgia authorities have issued warnings to the population to avoid playing, skating or driving on frozen lakes, ponds and other bodies of water where the ice can be dangerously thin.
The cold weather has not spared the rest of the United States however.
Subnormal temperatures and unusually heavy snows have plagued the entire eastern seaboard over the past several weeks.
In the northeastern state of Vermont three people including a three-year-old child perished when their snowmobile was swallowed by a frozen lake, local television said.