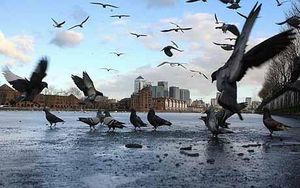 London was colder than parts of Antarctica yesterday as temperatures in southern England were forecast to plunge as low as 14F (-10C) overnight.
The capital reached a high of 37F (3C) yesterday, which was the same as Nuuk, the capital of Greenland.
At Antarctica's Jubany Scientific Station, which is home to 60 people, 16,000 penguins and 650 sea lions, a relatively balmy high of 41F (5C) was recorded.
MeteoGroup UK said that on Sunday night temperatures reached 18F (-8C) in northern Scotland and 21F (-6C) in parts of England and Wales.
The lowest temperature ever recorded in England was -15F (-26.1C) on Jan 10, 1982 in Shropshire.
Bookmakers William Hill cut the odds of a record cold temperature being reached in 2009 from 20/1 to 16/1.
Meanwhile, the Met Office disclosed that 2008 was the wettest year for eight years and the third wettest since records began in 1914.
More than 51 inches (129.5cm) of rain fell on the UK during the year, just behind the record years of 2000 and 1954.
The weather system known as La Nina is thought to be responsible for the wet weather which also brought an end to recent year on year increases in average temperatures.
For 2008 the average temperature for England, Scotland, Wales and Northern Ireland dropped to 48 F (9 C) from 49 F (9.6 C) in 2007.