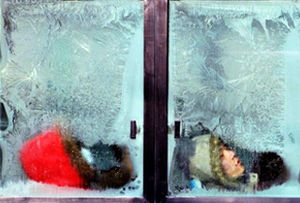 Heavy snowfall has wrought havoc on the Chinese transport system, clogging highways and stranding thousands for 48 hours and 1,400 rail passengers in Inner Mongolia, state media said Tuesday.
On Sunday, a snowfall of 10 millimeters was reported in the southern suburbs of Beijing where, according to the Chinese state broadcaster CCTV, temperatures have fallen to their lowest in some 50 years.
Drivers slept in their vehicles for two nights after getting stuck on Tuesday on a highway outside the Chinese capital, where a 20-kilometer-long bumper-to-bumper traffic was reported, AFP reported.
In Inner Mongolia, another northern region, 1,400 rail passengers were left in dark without heating overnight.
Beijing has, meanwhile, enforced school closures and the central China has been warned about upcoming snowstorms.