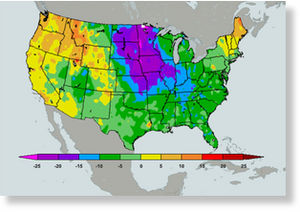 Much of the nation awoke to frigid weather Monday as below-freezing temperatures threatened to shatter records across the South.
"We're seeing freeze warnings not just into Central Florida, but down into the Everglades," CNN meteorologist Rob Marciano said.
Hard freeze warnings were in effect for much of the Florida Peninsula and the Southeast, according to the National Weather Service. Record lows were expected in the Gulf Coast states and into southern Florida, said CNN meteorologist Sean Morris.
Temperatures in parts of South Carolina got down to 14 on Sunday, Morris said, breaking the record low of 18 set in 1979.
The Big Chill is far from over.
"More arctic air will move in this week," Morris said. "It will get progressively colder in the Southeast."
"Some locations could see temperatures 30 to 40 degrees below normal"
across parts of the Plains, upper Midwest and Ohio River Valley on Thursday, Morris said. By Friday morning, afternoon highs will struggle to make it above zero, he said.
"The main event will come whenever the reinforcing cold air moves in," Morris said.
In Minneapolis, Minnesota, the temperature was minus 7 Monday morning, Morris said. In Chicago, Illinois, it was 11, with a wind chill of 3 below zero.
A weak storm system will move rapidly eastward across the Gulf Coast states Thursday and could bring a dusting of snow to Birmingham, Alabama, and Atlanta, Georgia, Morris said.
A winter storm watch was in effect for parts of central North Dakota, which was expected to experience moderate to heavy snowfall, the Weather Service said.
Florida was monitoring the cold's impact on crops, especially oranges and sugar cane, according to John Cherry, spokesman for the state's Division of Emergency Management.
"When temperatures get below 28 degrees," Cherry said, "and stay there for a duration of time," crop damage can occur.
The Weather Service on Monday issued a hard freeze warning for the Florida Panhandle and parts of Alabama and Georgia, meaning that temperatures would likely drop into the mid-20s or lower.
Cherry said Monday there had been very little impact on crops so far, but that the worst was yet to come. "We're putting our focus on [Tuesday] night, which is forecast to be extremely cold," he said.
The state, which began warning residents last week to take precautions, will continue to advise residents and visitors about the weather, he said. "Statewide we're focused on making sure people have heat, making sure people have shelter from the cold. And we're urging people to be careful with heating devices in their home," Cherry said.
The cold meant more homeless people were seeking shelter, according to CNN affiliate WBIR in Knoxville, Tennessee.
Two hundred guests have shown up at Knox Area Rescue Ministries, which was built to house 100 people, according to WBIR. "When it gets this cold it means it's extra demands on what we do day in and day out," Rescue Ministries President Burt Rosen told WBIR.
Turning to the Northeast, the Weather Service warned that a large storm off the New England coast would continue to bring heavy snow to much of New York state, including the Buffalo and Syracuse areas.