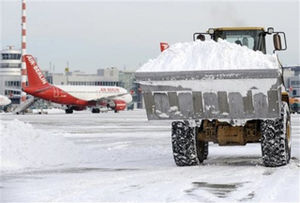 Sub-zero temperature across Europe has resulted in airport closures, flight cancellations, delays in services of trains, buses and subways.
More than 100 people are thought to have frozen to death in extreme weather conditions across the continent.
Cold weather and heavy snowfall could not have come at a worse time in Europe, as thousands of holiday travelers have been stranded by train and flight cancellations.
In Germany, Frankfurt Airport - the third busiest airport in Europe - was closed for about four hours Monday night due to icy runways, stranding about 8,000 passengers. It reopened on Tuesday but passengers still experienced delays and cancellations.
Berlin's Tegel Airport was also briefly closed on Tuesday amid freezing rain with some flights being temporarily diverted to the capital's Schoenefeld airport. Airports in London, Milan and Duesseldorf have also experienced closures.
In Moscow, where temperatures fell to -26C last week, relatively warmer temperatures of -13C brought heavy snow falls in the Russian capital, blanketing Red Square and the Kremlin. Up to 9,000 snow ploughs were said to have been sent out to clear the streets.
In Poland, nearly 50 people, mostly homeless, have frozen to death in December as temperatures dropped as low as -18C, according to local TV. Police said 15 people died on Saturday.
Ukraine reported 27 deaths while six people were killed in Germany where temperatures of -33C have been recorded. Dusseldorf International airport was also closed. Airports in the Netherlands and Belgium were also affected.
In France, forty percent of flights have been cancelled in Paris, while snow covered the beach in Nice. Minimum temperatures reached -23C in some parts.
In Spain, runways were closed at Madrid's Barajas airport after temperatures fell to -8C and high-speed AVE trains were suspended between the capital, Barcelona and Seville.
In Bulgaria, more than 220 villages and towns were left without electricity, and toppled trees cut power in several mountainous suburbs in the capital Sofia.
In Croatia, some 50 passengers were injured early Wednesday when a brake failed in temperatures of -17C on a train, causing an accident at the main station in the country's capital, Zagreb, police said. One person was critically injured.
In other European cities heavy snowfalls and freezing temperatures resulted in hundreds of car accidents.