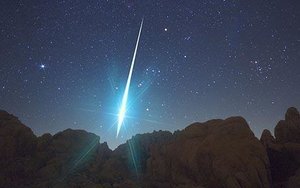 A green meteor was seen over the Mojave Desert in California as part of the annual Geminid meteor shower.
Astro-photogrpaher Wally Pacholka captured the annual cosmic fireworks show under dark and clear skies on Monday.
The meteor shower has been growing in intensity in recent decades and was enhanced this year by it falling in a nearly moonless week.
Featuring as many as 140 shooting stars every hour, the Geminid show took place between Sunday evening and Monday morning.
Taking 1522 photographs and capturing 48 meteors, Mr Pacholka was able to get this amazing image.
"The Gemini shower in my opinion is always the best meteor shower of the year and this one was the best I had ever seen with activity of at least 150 per hour near peak time", he said.
"A meteor this monster size is extremely rare to see, never mind photograph.
"It has to be one of the brightest meteor photographs on record."
The Geminids are slow meteors that create beautiful long arcs across the sky with many lasting more than a second.
The shower's radiant the point in the sky from which the meteors appear to originate is the Gemini constellation, giving the event its name.
The Geminids have been historically overlooked by stargazers, simply because of their timing so close to the busy holiday season and during frezzing winter nights, astronomers say.