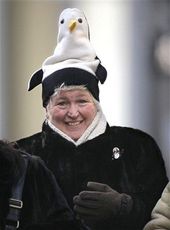 A deadly, windy storm that has paralyzed a wide swath of the nation for days left bitter cold behind as it finally made its exit Thursday, with temperatures below freezing in several states and gusts that made it feel as cold as minus 25.
Power failures in the Midwest, dozens of lost hunters in the West and howling winds that helped blow over a bus in New York provided just a few lingering miseries from the first major storm of the season.
Emergency rooms took in people who had slipped and fallen, overdone shoveling or reached their hands into clogged snowblowers, while tow trucks freed drivers from the sides of icy roads and everyday residents simply struggled to get around in the frigid winds.
"Like I stuck my face in the freezer," was how Bincy Mathew described the feeling in Chicago on Thursday, complaining about his watering eyes: "I think they are going to freeze up."
Aileen Azares, 42, of Dallas, spent part of the day taking photos in Chicago's Millennium Park, where sculptures sported snow hats and icicle beards. Azares wore a pink scarf but was still cold.
"Right now my ears are hurting," Azares said.
The days-old storm made its first punch in the West before plowing across two-thirds of the country with heavy snow, icy winds, and even lightning and thunder before preparing to blow out to sea off Maine.
In northern Arizona, 25 to 30 elk hunters remained stranded for a fourth day in below-freezing weather, and searchers feared the parties would run out of food and heating fuel before the next storm hit, possibly over the weekend.
The Coconino County Sheriff's Office said the hunters were trapped by the 2 to 3 feet of snow that fell Monday. Authorities received several reports of stranded or overdue hunting parties but expected to get more calls as the elk hunting season drew to an end Thursday.
"The storm just hit when everyone was out in the field," said sheriff's spokesman Gerry Blair.
Michigan residents hunkered down under a blizzard warning as the coldest air of the season crossed Lake Michigan. More than 120,000 people lost power in the state, in the middle of a swath from Iowa to West Virginia and up to Maine where residents were in the dark at some point.
High snow totals, fueled by winds blowing over lakes Erie and Ontario, were possible for parts of New York through Saturday, including south of Buffalo and north of Syracuse.
While less than three inches of snow fell on Buffalo, winds gusting between 50 mph and 60 mph blinded drivers, grounded flights and forced most schools to close. Frequent thunder and lightning lit up the sky before dawn.
A double-decker bus carrying 12 passengers from New York City to Toronto overturned on the New York State Thruway near Buffalo when the driver made an unsafe lane change during the worst of the storm early Thursday, state police said. Nine on board were taken to hospitals with injuries not considered life threatening.
"The winds were just whipping the snow back across the road, and you couldn't get a lane or two cleared or kept cleared," State Police Capt. Michael Nigrelli said.
In Rochester, where a blustery 28-degree day finally dispatched an unseasonably mild fall in upstate New York, Mike Hartman said he was getting in shape for ski season with a lunchtime jog around Cobbs Hill Park with his Chinese shar-pei dog and a friend.
"I did enjoy the mild weather, but I'd rather have snow than sleet and rain and a temperature in between freezing and not freezing," he said.
At least 17 people have died in the meandering storm, including a man found Wednesday outside his pickup truck in central Iowa and a North Carolina driver killed when a tree was blown onto his pickup.
Wisconsin hospitals dealt with an influx of patients, including Lloyd Gleason, who lost a finger and fractured two others in a snowblower. He was one of six victims of snowblower accidents who went to St. Mary's Hospital in Madison on Wednesday.
"I just didn't think the thing was working, and it was," he told WISC-TV.
The Upper Midwest was left under a dome of arctic air that forecasters said would linger into the weekend. As often, the coldest spot was International Falls, a small city along the Canadian border that has proclaimed itself the "Icebox of the Nation."
Jake Haney, who fuels planes at the International Falls Airport, said it was 13 below zero with a steady wind when he got to work at 6:30 Thursday morning. He expected to spend about four hours of his 10-hour shift outside but said he'd be fine as long as he left no exposed skin.
"I enjoy it, kind of," Haney said. "I've lived here my whole life, so I'm used to it at least. It's fresh air. It's better than being trapped inside."