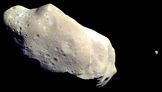 A TV space hit of the future could be 2020 Rock.
That's the rough target date NASA and space industry folks are eying for a mission to send astronauts to a Near Earth Object, aka an asteroid. Such a trip could be a stepping stone to Mars and extended stays on the moon, and guide plans to head off dangerous space rocks on a collision course with Earth, according to Space.com.
Lockheed Martin, builder of the next-generation Orion spacecraft, the U.S. space program's successor to the shuttle, has drawn up a "Plymouth Rock" plan for NASA touting the voyage as a way to gain a foothold outside low-Earth orbit. Powerful telescopes and beaming energy to Earth from space could be the eventual payoff.
The merits of a human mission to a Near Earth Object were detailed last week during a Boulder, Colo., meeting of the Small Bodies Assessment Group, established by NASA in 2008 to study asteroids, comets, interplanetary dust, small satellites and far-flung orbiters known as Trans-Neptunian Objects.
The plans are to be weighed by NASA and the White House, Paul Abell, a research scientist at the Planetary Science Institute assigned to the Johnson Space Center in Houston, told the Web site. "It's going to take a bit of time. I don't think there's going to be a quick decision."
How the White House will react to an asteroid trek is beyond anybody's crystal ball, Space.com said, but the talk got the attention of Lockheed Martin, which began its Plymouth Rock mission study a couple years ago, said Lockheed's Josh Hopkins, in the company's advanced programs for human space flight division in Denver.
Maximizing astronaut safety and coping with issues such as trash management, cosmic rays and abort scenarios are still up in the air, Hopkins noted. But given the core attributes already built into the Orion system, he said, "we think it does make sense for the human spaceflight program to be investigating this."
But there would be no landing on the asteroid. Instead, astronauts would park nearby and jet-backpack to the surface. They'd expect to haul back about 200 pounds worth of rock, gathering data about the makeup of the objects that could be useful if one of them were found hurtling toward the Earth someday.
"We assume staying at the asteroid for five days. They could stay a week or two. But staying for a month gets hard," Hopkins said.
"We'd really like a larger pool of candidate targets so that we could visit a NEO that has cool properties and would have the greatest scientific return," Chapman told Space.com.
"Human exploration is for human purposes," said Mark Sykes, chair of the Small Bodies Assessment Group and director of the Planetary Science Institute in Tucson.
Science by itself doesn't drive human exploration, Sykes noted, "but we can benefit, scientifically, from this. We'll take advantage of whatever opportunities come our way!"
Sykes said the prospect that space rocks could hold resources, such as a cache of water, or be useful in radiation shielding, may have a profound impact on expanding sustainable human operations farther out into space, Space.com reported.
If so, asteroids may well act as a linchpin for people living, working and populating space, Sykes said. But are those resources recoverable in an economic way?
"It's within the realm of consideration. Of course, a lot more homework needs to be done," Sykes stressed.