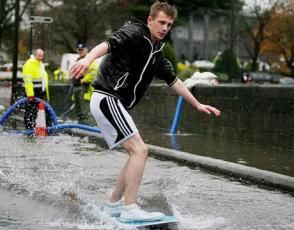 South and west hardest hit as Army is deployed
Ireland faces a multi-million euro flood damage bill after some of the worst flooding in living memory.
Bus and rail travel was disrupted, motorists were urged to undertake journeys only if absolutely necessary and the Army was called out to help stem rising floodwaters as parts of the South and the West faced the brunt of the atrocious conditions.
Last night, Met Eireann warned of more bad weather to come with more wind and heavy rain. Meteorologists added that next week was looking "every bit as unsettled".
In Clare, 28 psychiatric patients were last night evacuated from a care home in Ennis ahead of flood levels reaching their peak.
Towns in Galway and Cork were cut off and the Irish Farmers Association revealed that farmers were experiencing the worst conditions in 20 years in the West.
Sandbags
Up to 65 soldiers and 10 off-road trucks were deployed to Bantry and Clonakilty in Co Cork, Ennis, Co Clare, Clonmel, Co Tipperary, and Ballinasloe, Co Galway, to help stem rising floodwaters with an estimated 10,000 sandbags distributed by Army personnel to the affected towns.
A further 175 Army personnel and 25 vehicles were on standby last night in various barracks throughout the country, ready to spring into action should floodwaters continue to rise throughout the night.
Air Corps helicopters were also on standby for emergency assistance, but because of bad weather would only be used in "exceptional circumstances".
Rail services between Galway and Athlone were suspended with bus transfers in operation between Ballinasloe and Athenry, Co Galway, for all services on the Dublin-Galway line. In Clonmel the extent of the flooding was described as the worst for many years.
Heavy flooding hit the town centre with the River Suir breaking its banks in several areas.
Four bridges -- Knocklofty Bridge, Presentation Convent Bridge, Old Bridge and the Gashouse Bridge -- remained closed to traffic last night. St Thomas' Bridge had one lane open for cars only.
Claims
With hundreds of homes suffering severe flood damage, Irish insurance companies now also face a pre-Christmas nightmare of major claims.
Worst-hit by the deluge was Cork where four towns were virtually cut off by floodwaters -- Bandon, Clonakilty, Skibbereen and Dunmanway.
A landslide closed the main Cork approach route to Bandon. The town was left resembling a mini-Venice as two rivers -- the Bandon and Bridewell -- both broke their banks and left the town's main street under up to five feet of water.
Traders -- some of whom lost their entire Christmas stock -- described the flooding as "a total catastrophe" for the town and some Cork rivers which broke their banks did so for the first time in nearly 50 years.
A road in Monkstown was torn up by raging torrents of water for the third time in eight days.
In Skibbereen, 20 people had to be evacuated by emergency services from the COPE Foundation offices, while in Ennis, 28 patients had to be rescued from Cappahard Lodge, a long-stay psychiatric care residence.
The floods also devastated transport networks. In Clare, the Limerick-Ennis railway line was closed for several hours yesterday following a slippage on the line.
Passengers had to be taken to their destination by coach while Iarnrod Eireann experts examined the line.
Heavy flooding also hit Iarnrod Eireann's Sligo to Dublin rail line. Similar flooding had occurred on the same line between Carrick-on-Shannon and Longford, with bussing arrangements in place and delays of up to 45 minutes .
The floods also forced local authorities to issue Ballinasloe, Co Galway, householders with a 'boil water' notice amid fears that untreated water could enter the supply.
In Galway, farmers in the southern part of the county warned they were now facing the worst floods since the disastrous deluge of 1995 when fodder had to be air-lifted in for starving animals.
Numerous communities were virtually cut off as floods hit local roads while the villages of Craughwell and Menlough saw their centres transformed into lakes by the torrential rainfall.
DART and Northern-Maynooth Commuter Services were also experiencing delays of up to 10 minutes while the Wicklow to Gorey line remained closed due to the instability of an embankment as a result of extremely heavy rain.