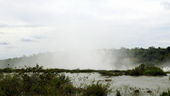 A 6.1-magnitude earthquake hit north-western Argentina late on Saturday, the U.S. Geological Survey reported on its website.
The epicenter of the quake was located at the depth of 142 kilometers (82 miles), some 190 kilometers north-east of the city of San Salvador de Jujuy near the border with Bolivia and Chile.
There have been no reports of casualties or any damage so far.
Another powerful, 6.5-magnitude, tremor shook the northern Chilean regions of Arica, Tarapaca and Iquique early Friday, causing some blackouts but no casualties.
Both Argentina and Chile are located within the so-called Pacific Ring of Fire, along which 90% of the world's earthquakes and 80% of the world's largest earthquakes occur.