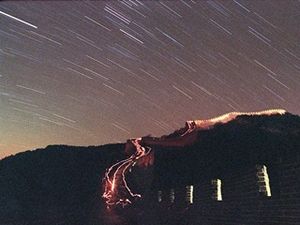 Authorities scrambled to find a downed aircraft after numerous witnesses called to report seeing a fireball plunge out of the sky, but the sightings may have been the result of something a bit more astronomical.
Yolo County emergency crews searched the area near Interstate 5 and Interstate 505 just northwest of Zamora after multiple callers reported seeing a ball of fire fall out of the sky, but found no sign of any aircraft.
An emergency dispatcher with the Federal Aviation Administration confirmed that the event is part of the annual
Leonid Meteor Shower
, which lasts for a couple of weeks and isn't expected to peak until November 17.
Visible meteors typically appear as shooting stars to the naked eye, but footage of other meteor sightings -- much of which is
available on YouTube
or other video sharing sites -- illustrate the spectacular potential of such events.
Authorities reported sightings all across Northern California, from the central coast into the Amador County, relating to the meteor shower.