A strong earthquake struck the Hindu Kush region of eastern Afghanistan Thursday, but the U.S. Geological Survey said it had no reports of damage or injuries.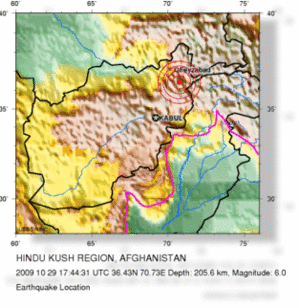 The preliminary magnitude was 6.0, the USGS said. The epicenter of the quake -- which struck about 10:15 p.m. (1:45 p.m. ET) -- was 255 kilometers (160 miles) north-northeast of the capital, Kabul.
The depth of the quake was 202 kilometers (126 miles), said USGS geophysicist Paul Caruso.
It was felt as far away as Islamabad, Pakistan. Because of the depth, Caruso said, it is not unusual for a quake to be felt quite a distance away.
.