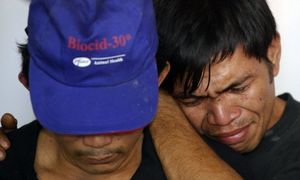 Millions of terrified Philippine flood survivors hunkered down Friday as a super typhoon approached, with officials pleading for God to save the disaster-struck Southeast Asian country from more devastation.
Typhoon Parma, packing gusts of 230 kilometres (145 miles) an hour, was forecast to hit rural areas in the north of the Philippines' main island of Luzon before dawn on Saturday.
The government warned Parma would tear down houses in its direct path, while likely bringing more heavy rain and high winds to the nation's capital, Manila, and nearby areas still recovering from record floods last weekend.
"I am more worried about the wind, the damage it can do, breaking window glass, and blowing the roof off the house. Floods are easier to face," said Annette Kawilan, whose Manila house was flooded in Saturday's deluge.
"Basically you want to remain where you are because you want to save your things, your family. We want to be together. We don't know where to go."
Kawilan was among the more than three million people affected by tropical storm Ketsana, which killed at least 293 people as it pounded Manila and surrounding areas with the heaviest rains in four decades.
Nearly 400,000 people remain in under-prepared schools, gymnasiums and other makeshift evacuation centres. The rains from Parma threaten to worsen already squalid conditions and further hamper relief supplies for the survivors in those shelters.
Many parts of Manila and neighbouring regions also remain under water -- with mud, debris and trash still blocking drains -- so any more rain could lead to another surge in flood waters.
And because of Ketsana, much soil across Luzon cannot absorb too much more rain, meaning storms do not have to be as heavy as normal for floods to occur, the government weather station warned.
Meanwhile, hundreds of kilometres to the north in the rural provinces of Isabela and Aurora, people were preparing for the full onslaught of Parma, which the government has termed a "super typhoon".
"These gusts are strong enough to destroy houses, to rip the roofs off houses," Nathaniel Cruz, head of the weather forecasting unit, said in a radio interview. "The best thing we can do for the lives of our countrymen is to look for the strongest building where our countrymen can take refuge while the storm is passing."
Cruz warned people in Aurora and Isabela not to be fooled into thinking the typhoon would not wreak havoc, just because the winds had yet to be be felt.
"They might think it isn't something to worry about but from our radar and satellite image, we can see it is an incredibly strong typhoon," he said.
The governor of Aurora, Bella Angara, said officials were preparing for the worst and hoping for the best.
"The prediction is that this typhoon is very strong. Our prayers are that no lives will be lost. God answered our prayers (during tropical storm Ketsana) and we are hopeful we will be spared again," Angara said on radio.
Most of the Philippines' population of 92 million is devoutly Catholic.
Aurora is a mainly rural province of mountains and rice plains, with a population of about 187,000 people. Isabela is another fertile farming region but much bigger and has a population of about 1.4 million.
The Philippines is normally battered by about 20 typhoons annually, but the pattern has changed in recent years and the ferocity of some has increased. Some weather experts have blamed the changing nature and pattern of the typhoons on climate change.