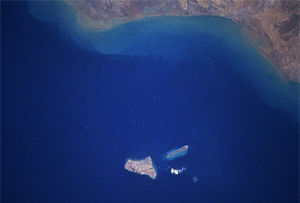 Iran's Islamic Revolution Guards Corps (IRGC) has targeted and downed an unidentified shining object after sighting it over Persian Gulf waters.
"Glowing objects were sighted over the Persian Gulf. IRGC air defense targeted one of the objects successfully, forcing it to plummet and sink in the seas off Boushehr (Province)," said top regional commander, Brigadier Ali Razmjou.
"The three bright objects were detected by our radars when flying over the Persian Gulf Islands of Khark and Khargou," he added, according to a Monday report posted on IRNA.
Brig. Razmjou explained that when the radars indicated that they were not Iranian aircrafts, the IRGC fired at the three objects. He also added that the fallen objects' remains have not been found yet.
The exact time and location of the sighting and downing of the weird aircraft has not been announced.