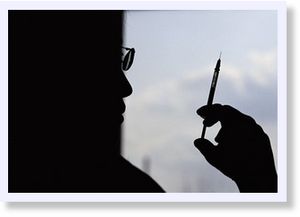 The swine flu vaccine has been hit by new cancer fears after a German health expert gave a shocking warning about its safety.
Lung specialist Wolfgang Wodarg has said that there are many risks associated with the vaccine for the H1N1 virus. The nutrient solution for the vaccine consists of cancerous cells from animals, and some fear that the risk of cancer could be increased by injecting the cells.
The vaccine can also cause worse side effects than the actual swine flu virus.
Dr. Mercola's Comments:
Finally some good news to report about the swine flu mess.
This site, and many others seeking to shed light on this deceptive manipulation, are making a huge impact and the people are refusing to believe the government propaganda.
Vaccine safety advocates everywhere are beginning to make a serious dent. According to a recent
Fox News poll
, the majority of people in the US now believe the swine flu vaccine may be deadlier than the actual virus.
Additionally, there is more good news when it comes to what health care professionals believe.
Research
published in the August 25 issue of the
British Medical Journal
reveals that more than half of doctors and nurses in public hospitals would also refuse the H1N1 vaccine, due to concerns about side effects and doubts about its efficacy.
New Potential Health Risks of the Swine Flu Vaccine Emerge
Just last week I
reported
on the confidential correspondence between the British Health Protection Agency and 600 neurologists, warning them to be on the lookout for cases of Guillain- Barré Syndrome once the swine flu vaccine campaign begins.
I've published earlier articles about some of the
more dangerous ingredients
in this vaccine, such as mercury, and
squalene
, which has been linked to the development of autoimmune diseases like rheumatoid arthritis and lupus.
Now, German lung specialist Wolfgang Wodarg has come out about even more potential health risks associated with the swine flu vaccine. Interestingly, Dr. Wodarg also holds political office, as the chairman of the health committee in the German parliament and European Council.
According to Dr. Wodarg,
the swine flu vaccine contains animal cancer cells
, and there's no data indicating whether or not this may cause an allergic reaction when injected.
It also raises questions about the risk of contracting cancer.
He also told the German press that the widespread fear of the pandemic was an "
orchestration
," stating,
"It is great business for the pharmaceutical industry. Swine flu is not very different from normal flu. On the contrary, if you look at the number of cases it is nothing compared to a normal flu outbreak."
More Documentation about Swine Flu Vaccine Safety
A recent
article
by Dr. Blaylock also highlights the many reasons why the vaccine may be far more dangerous than the virus. If you have interest in this issue I would strongly encourage you to read Dr. Blaylock's article.
He states that the Baxter swine flu vaccine, called Celvapan, uses cultured cells from the African green monkey, which has previously been implicated as having transmitted a number of vaccine-contaminating viruses, including the HIV virus.
Likewise, Johannes Löwer, president of the
Paul Ehrlich Institute
, believes the side effects of the vaccine can be far worse than the actual swine flu virus, which typically causes only mild symptoms, requiring just a few days in bed.
As you may already know, the Centers for Disease Control (CDC) consistently claim the seasonal flu kills about 36,000 Americans each year. After investigating that figure, it has been
found to be
a gross exaggeration based on flawed data compilation, but still, the swine flu has claimed FAR fewer lives than the seasonal flu in any given year, and no draconian measures have ever been taken to curtail the seasonal flu.
Based on a rational view of the numbers involved, the widespread fear over the swine flu certainly appears completely unwarranted.
I'd also like to point out that even though the World Health Organization's
web site
claims that there has been at least 2,185 deaths from the swine flu worldwide, stating that: "Given that countries are no longer required to test and report individual cases, the number of cases reported actually understates the real number of cases," the truth is likely quite different..
Why?
Because some countries, such as Great Britain, are now recording any and all cases of flu as the swine flu, based on nothing more than an online questionnaire.
How would this practice lead to an understatement of the real number of swine flu cases?
Without laboratory verification, it's quite likely that a very large number of these so-called swine flu cases are in fact cases of seasonal flu.
Industry Versus Independent Research Findings -- Who are You Going to Believe?
Dr. Blaylock claims to have reviewed a number of studies on the immune adjuvant squalene, and found that several of the human test studies found it to be very safe. However, upon further investigation, they were all done by the pharmaceutical companies using the adjuvant.
However, a great number of the studies done by independent research facilities all found a strong link between squalene or MF-59 (which contains squalene) and autoimmune diseases.
Dr. Blaylock warns,
"Studies of other immune adjuvants using careful tracer techniques have shown that they routinely enter your brain following vaccination.

What most people do not know, even the doctors who recommend the vaccines, is that most such studies by pharmaceutical companies observe the patients for only one to two weeks following vaccination - these types of reactions may take months or even years to manifest."
This is a major point.
If you were to develop an autoimmune disease years down the line, how would you ever be able to prove that your disease originated in a needle?
And worse,
even if you could prove it, it wouldn't do you any good, because vaccine manufacturers have cleverly manipulated government into granting them immunity against lawsuits, should any harm be caused by this experimental vaccine
.
Why You Should Avoid Other Anti-Virals as Well
British researchers recently
warned
that the antiviral medication Tamiflu is "inappropriate for healthy adults."
"
Recommending the use of antiviral drugs for the treatment of people presenting with [flu] symptoms is unlikely to be the most appropriate course of action
," they concluded.
The
study
, published in the
Lancet Infectious Diseases
, recommends that healthy people who get the swine flu should NOT be treated with antivirals like Tamiflu or Relenza, unless they suffer complications from the flu.
Based on their findings, either drug will reduce your illness by about HALF A DAY.
For people with health conditions like diabetes or asthma, Relenza was able to cut sickness by just under one full day, and Tamiflu by three-quarters of a day, on average.
Seriously... Are the potentially
serious side effects
really worth the risk, to gain maybe half a day? You'll STILL spend five or six days in bed, with or without the shot, as it does not necessarily PREVENT the flu, it just reduces the length of your illness by a few hours if you do get it!
Free Book on Vaccine Dangers
All truth passes through 3 stages:

First it is ridiculed
Second, it is violently opposed
Third, it is accepted as self evident
This famous quote by Arthur Schopenhauer is one of my favorites, and is, I believe, how history will in the end view the issue of vaccines.
Right now, we are in the second stage, and you can see that by statements such as the one made by the chief medical editor at NBC News, Dr. Nancy Snyderman, who is quoted as
saying
that "people should reject conspiracy theories about the vaccine's safety, trust the government, and get your damn vaccine."
Don't fall for such
irrational attempts to emotionally manipulate you away from the facts
.
For a great review of why mandatory vaccinations are unconstitutional and illegal, I recommend the book
Horrors of Vaccination Exposed and Illustrated; Petition to the President to Abolish Compulsory Vaccination in the Army and Navy,
by Charles M. Higgins.
Written in 1920, the book is now in the public domain and can be read and downloaded for free by clicking this
link
. It discusses the dangers of vaccinations, the cover-ups of vaccine deaths, and explains your constitutional rights and the medical trends that are stripping those rights away, and is every bit as relevant today as it was when it was first written.
If you prefer a hardcopy version, you can also
purchase the book
, as it has recently been republished.
Want to Learn More AND Get Involved? Attend This World-Class Vaccine Conference!!
This
video
was originally aired on August 12, 2009, featuring CBS News Medical Correspondent Dr. Jennifer Ashton and NVIC's Barbara Loe Fisher. Here they discuss the possible dangers of the swine flu versus the H1N1 vaccine. Both provide sensible information and guidelines on this issue. I can't stress enough how important it is for this type of information to make it into the conventional media.
Interestingly the swine flu vaccines are going to be available in the US around the time the finest vaccine conference in the world will be held. If you want to learn the absolute latest and best strategies for swine flu, then Washington DC is the place to be October 2-4. I will be sharing my strategies live at the event.
So join me at the
International Vaccine Conference
in Reston, Virginia (Near Washington, D.C.). It is the best vaccine conference in the world, and is only held about once every five years.
It is relatively inexpensive to attend, and highly recommended. But you'll need to hurry to reserve your seat, as there is only room for 1,000 and the seats are going quickly.
This conference
includes the best of the best speakers on this topic and I am VERY excited about attending. Plus, Washington DC is absolutely delightful in the fall and all the world-class museums there are free.
It is only $195 for the weekend and the hotel rooms are severely discounted. So even if you are only considering going, you should register for the hotel as there is no charge to cancel your reservation.
Related Links:
WHO Admits to Releasing Pandemic Virus into Population via 'Mock-Up' Vaccines
Warning: Swine Flu Shot Linked to Killer Nerve Disease
Canada Looks at Vitamin D for Swine Flu Protection
Sources:
Bild.com August 21, 2009
Reuters August 22, 2009
Socio-Economics History Blog July 15, 2009