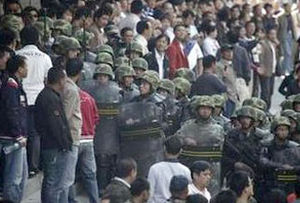 At least five people have lost their lives during massive protests against syringe attacks in China's restive western city of Urumqi this week.
"Five people have been confirmed dead and 14 others injured and hospitalized following Thursday's protests," Zhang Hong, vice-mayor of Urumqi, was quoted as saying by the state-run Xinhua news agency on Friday.
It was unclear how the deaths happened, but
thousands of Han Chinese have been protesting over an unexplained spate of stabbings with syringes.
Many of the protesters blame ethnic Uyghurs for the stabbings.
By Thursday,
local hospitals had dealt with 531 victims of hypodermic syringe stabbings
, 106 of whom showed obvious signs of needle attacks.
Meanwhile, Chinese officials say the attacks were premeditated and organized to create terror.
China's Public Security Minister Meng Jianzhu arrived in Urumqi on Friday to defuse the ongoing unrest in the city. "The three forces (separatism, terrorism and extremism) at home and abroad are not willing to see ethnic unity," he said.
"So
they are using 'soft violence' to disrupt social order and instigate ethnic hatred
," Meng stated upon his arrival in the region.
Hundreds of people lost their lives and thousands more sustained wounds due to violence in the Xinjiang province and its capital city Urumqi in May. The incident triggered Muslim' resentment across the globe over Beijing's degrading treatment towards Uyghurs.
Despite China's booming economy -- which has brought prosperity and generated more jobs in the mainland -- the Turkic-speaking Muslim minority of Uyghurs have long been marginalized.